Fujifilm has just announced the new X-T200, the successor to the X-T100. The camera uses a 23.5mm x 15.7mm (APS-C) CMOS with a primary color filter.
The X-T200 is priced at $699 USD so it would be a good choice for a first mirrorless camera that offers some nice features.
Key features
APS-C CMOS Sensor
24.2MP
Hybrid phase & contrast-detection AF
180-degree articulating 3.5″ LCD touch screen
4K recording up to 29.97P
HDR movie mode
Gyroscopic sensor image stabilisation
USB Type-C terminal & 3.5mm mic input
Bluetooth & Wi-FI
Film simulations
Video Specifications
As far as video is concerned, the X-T200 only records in H.264. You can record a maximum 4K 29.97P or HD 59.94P frame rates. Much more usable than the 4K 15fps recording on the X-T100.
Recordings are limited up to 30minutes in HD & 15 minutes in 4K so it is not primarily designed for video work.
4K (3840 x 2160):
29.97P/25P/24P/23.98P Continuous recording: up to 15 min.
Full HD(1920 x 1080):
59.94P/50P/29.97P/25P/24P/23.98P Continuous recording: up to 30 min.
HD(1280 x 720):
59.94P/50P/29.97P/25P/24P/23.98P Continuous recording: up to 30 min.
1:1 Full HD(1080 x 1080):
59.94P/50P/29.97P/25P/24P/23.98P Continuous recording: up to 30 min.
1:1 HD(720 x 720):
59.94P/50P/29.97P/25P/24P/23.98P Continuous recording: up to 30 min.
High Speed Movie(1920×1080):
2x / 4x / 5x
For 4K movie recording, use a card with UHS Speed Class 3 or higher
What is of interest is the 1080 x 1080 recording mode which was designed for specifically producing content for social media channels.
X-T200 generates 4K (3840×2150) video by recording 6K video with no crop (6032×3392) and downsampling it,
It does feature 11 film simulation modes: 11 types (PROVIA/STANDARD, Velvia/VIVID, ASTIA/SOFT, CLASSIC CHROME, PRO Neg Hi, PRO Neg. Std, MONOCHROME, MONOCHROME+Ye FILTER, MONOCHROME+R FILTER, MONOCHROME+G FILTER, SEPIA). There is no F-Log.
A new HDR movie Mode lets you combine multiple videos with varied exposure settings to increase dynamic range and make movies with more detail in shadows and highlights. This is perfect for situations where there is strong backlight or for outdoor scenes where there is a mixture of shadows and highlights.
Adding an external microphone is much easier now, with a 3.5mm mic-in jack, compared to the less common 2.5mm jack on the X-T100. Unfortunately, there is no headphone jack.
Gyro Stabilisation
Unlike other more expensive cameras, the X-T200 does not offer image stabilization at the sensor but does so using gyroscopic sensors to apply digital image stabilization. This does crop in the image though.
A gyroscopic sensor installed in the camera body helps it determine how to account for camera shake and apply its digital image stabilization algorithm, which allows for smoother video capture.
*When using this function, the field of view is cropped
*Lenses and angles of view that can be used are limited.
Pricing & Availability
The X-T200 is available in three colors for USD $699 and is also available in a kit with a 15-45mm lens for $799.
Fujifilm XC 35mm f/2 Lens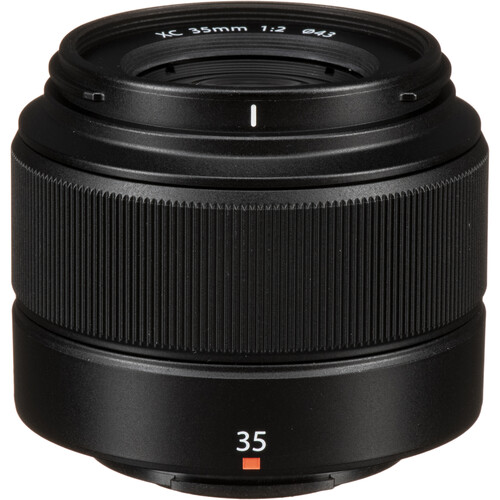 In addition to the X-T200, Fujifilm has also announced the new XC 35mm f/2 lens. This is the first prime lens in the XC lineup which is designed to be more affordable than the more premium XF lenses.
Designed for APS-C sensors, the lens provides a 53mm-equivalent focal length, with a fast f/2, 9-blade aperture.
It is designed with 9 elements in 6 groups, two of which are aspherical elements.
The lens weighs is very light and compact, at only 130g, making it a good match for the X-T200.
The XC 35mm f/2 lens is priced at $199 USD.