The long-awaited follow-up to the original Nano is now shipping. The Tilta Nucleus Nano II is a significant update with an all-new touchscreen display FIZ controller, a much more powerful high-torque motor, a long-lasting battery, and multi-channel communication. All for $299.
Tilta stated they had sold more than 300,000 Nucleus-M and Nucleus-Nano units since the system was first launched. The good news is you can use those motors with the new Nano II.
It is also compatible with other Tilta devices, such as the motorized Tilta Mirage and DJI Ronin gimbals, making it a versatile product that can be used in various workflows.
All-in-One Control: Camera, Gimbal, & Motor
The Nano II allows users to wirelessly adjust camera settings via WiFi, Bluetooth, and the motor's USB-C port for compatible camera systems such as Canon, Sony, Blackmagic Design, and more.
The Nucleus Nano II combines camera, gimbal, and motor control into a single unit. Camera control functionality depends on what camera you are using. The Nano II communicates with cameras via a LANC cable, WiFi, Bluetooth, and the motor's USB-C port for compatible camera systems such as Canon, Sony, Black Magic Design, and more.
This makes the Nano II a good option for filmmakers who regularly utilize support systems like Drones, Car Mounts, Cranes, Gimbals, or any other rig that makes it difficult to adjust camera settings quickly.
Interactive Touch Screen Control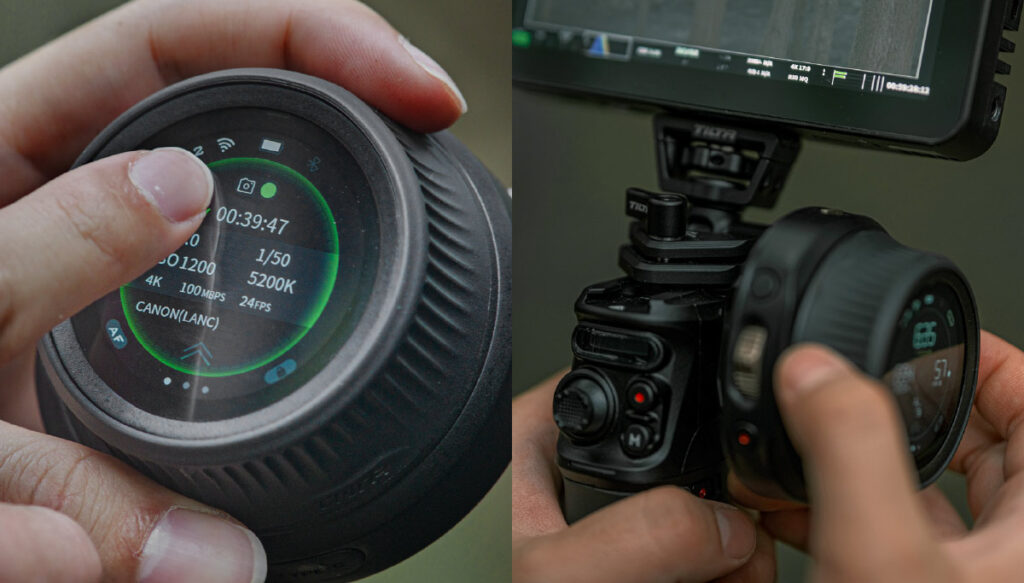 The interactive touchscreen control was designed to offer easy access to settings with just one touch. This lets the user make quick adjustments without fumbling with buttons or menus. Tilta claims the touchscreen is highly responsive and offers an intuitive user experience. You can control two focus motors from the compact controller. One rocker switch and the main FIZ. Users can utilize the Main Dial to adjust focus, while the new Control Rocker handles Zoom or Iris functions via a dampened Rocker, perfect for easing in or out of zooms.
The Nano II FIZ can store lens information that can be recalled. The lens mapping control screen offers real-time focus distance information, allowing you to stay informed and in control of every frame without relying on physically marking a focus disc.
Powerful Motors
The new motor design of the Nucleus Nano II is claimed to provide 5x more torque than the original Nucleus Nano. They feature an auto-adjustable torque design and a high-efficiency cooling system, claiming to make them more reliable and durable than previous offerings. The motor is said to be responsive without lag.
Internal Rechargeable Battery
The Nucleus Nano II has an internal rechargeable battery for up to 20 hours of run time.
Multi-Channel Communication for Up to 4 Motors
The Nucleus Nano II combines camera control, gimbal control, and motor control into a single unit, and it also features multi-channel communication for controlling up to 4 motors. This allows the user to adjust focus, iris, zoom, and another axis, such as a geared variable ND filter.
Compatibility with Other Tilta Wireless Control Systems
The Nucleus Nano II is compatible with other Tilta wireless control systems such as the original Nano, Nucleus-M, Mirage VND motor, etc.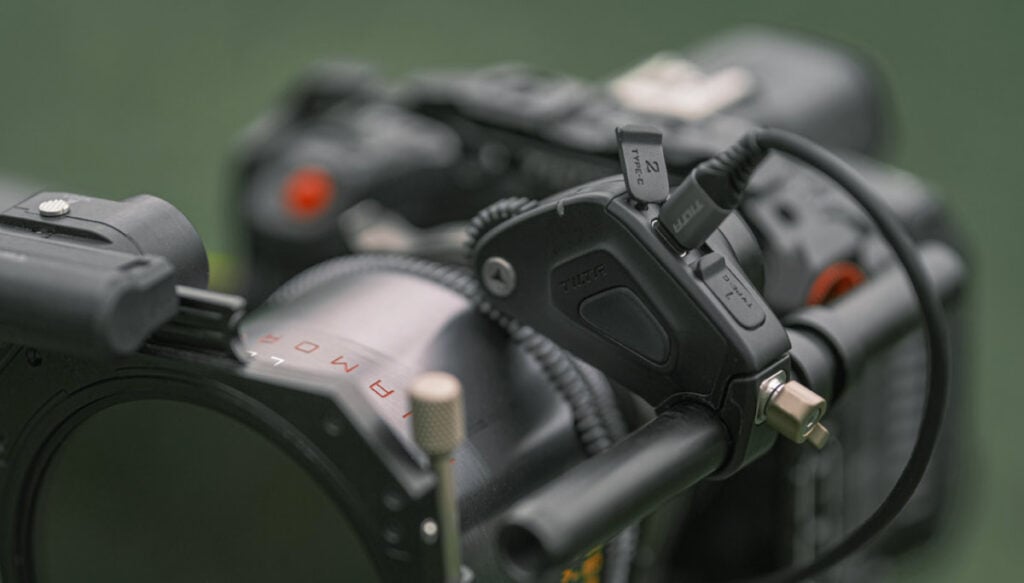 Works with DJI Gimbals
The Nucleus Nano II looks to be a good companion for DJI gimbals. It supports control and communication and is compatible with RS2 & RS3 Pro gimbals.
Price & Availability
The basic Nucleus Nano II kit is $299 USD and is available today as well as shipping.
The Tilta Nucleus Nano II Handwheel Controller is available as a stand-alone purchase for $169 USD and includes a USB-C Power Cable (11.8″)
Tilta Nucleus Nano II FIZ Lens Control Motor Kit that includes a Lens Adapter Ring & USB-C Power Cable (11.8″) $119 USD
With a price of $299 USD, Tilta has certainly made the Nucleus Nano II very well-priced and is a product that is likely to appeal to many shooters.