With the popularity of the 5.2″ Shinobi, Atomos released the larger Shinobi 7. The new larger bright monitor-only is a welcome addition for those looking for more screen real estate with the functionality of the original Atomos Shinobi.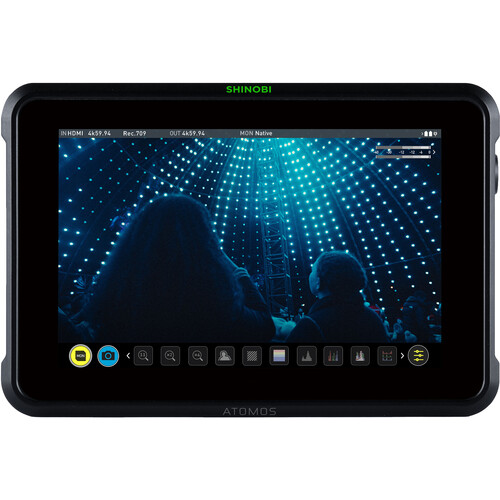 Shinobi 7  Key features
2200 Nits HDR / Daylight viewable display 
HDMI 2.0 support for 4Kp60, 3G SDI support up to 2Kp60 
Bi-directional HDMI <=> SDI signal cross conversion 
Dual NPF battery slots for continuous power 
3D LUT support with Preview and Loop out 
AtomHDR provides built-in Log to HDR conversion for Display and loop out 
Touch screen Camera control via optional cable for compatible cameras of Iris, WB, Shutter speed, and ND  
Exposure tools – histogram, waveform, false color & Zebras 
Pull focus with confidence using Zoom 4:1, 2:1, 1:1 
Headphone monitoring of camera audio 
Shinobi 7 is a bigger and brighter screen and takes the foundations of the original Shinobi. Atomos states that it has a calibrated peak brightness of 2200 nits which should make it easily viewable in outdoor situations without having to use a sunhood.
New to Atomos monitors, the Shinobi 7 has a camera control feature that uses the touch screen. It's designed to give you fast access to the most crucial camera features. Focus on the image and make dynamic adjustments of iris, white balance, shutter angle, and ND.  With the optional Atomos USB-C to serial cable.
Support is available out of the box for the Z Cam E2 series camera, providing direct control of all the menu configurations.  The additional USB and RJ45 control ports on the Shinobi 7 also provide support for future developments, as more options are added for touch screen camera control.
HDR in the field
The Shinobi 7 screen displays 10+ stops of dynamic range in real-time from Log/PQ/HLG signals.
The unit does have fans built-in, we'll have to wait and see how loud these get and how often they turn on. You can prioritise reduced fan noise or peak brightness of the display.
Built-in 3D LUT box, Continuous Power, and more
In addition to Log to HDR conversions, you can also use your own custom 3D LUT to feed downstream to other devices or live feed.
Eight custom LUTs can be loaded onto an SD card.
The Shinobi 7 has dual battery slots, enabling hot-swap for continuous power. There is also a DC input that can be used for mains power or the optional DC to D-Tap cable for use with V-mount batteries.
Pricing & Availability
The Atomos Shinobi 7″ will retail for USD $699 and will be available in June 2021.