Black Friday sales are here and we've gathered all of the best deals around the web.
Make sure to check back in as we update the list with more deals as they go live.
27% off all products from 27-11 until 30-11. Use the code 'BLACKF2020'.
Free shipping worldwide
STARTING ON NOVEMBER 26, 12:00 NOON (CET)
ENDING ON NOVEMBER 30, 12:00 NOON (CET)
PLUS A LITTLE SOMETHING EXTRA FROM US
Please note these deals are only available in North America and start from the 27th of November.
The Ninja V 5" HDR monitor-recorder will be available for $499 USD and the Shogun 7 HDR Pro/Cinema Monitor-Recorder-Switcher will be available for $899 USD.
B&H
SONY
CANON
PANASONIC
FUJIFILM
NIKON
OLYMPUS
SYRP
LITEPANELS
ROKINON
TOKINA
FIILEX
The Boris FX Black Friday Sale includes several must-have post-production video apps and plugins — Sapphire, Mocha Pro, Continuum, Silhouette, Silhouette Paint , and Optics. Artists can save by purchasing the products with the following options:
● 50% off new perpetual licenses for product bundles (node-locked only)
● 25% off everything else, including the Boris FX Suite, monthly subscriptions, annual subscriptions, U.S. renewals, node-locked individual products, units, and more (node-locked only)
● Limited to one product purchase per customer
● Monthly subscriptions are discounted for the first month only. Renews at list price.
The Boris FX Black Friday Sale ends this Friday, November 27, 2020, at midnight EST.
Deals on matte boxes, camera kits, accessories and more at https://www.brighttangerine.com/black-friday-deals/
Creative Solutions (SmallHD, Teradek & Wooden Camera)
Save up to 60% off selected items at Teradek.
Save up to 50% off selected items at SmallHD.
Save up to 25% off selected items + 20% off most items sitewide at Wooden Camera.
Discounts on DJI drones, gimbals and accessories at https://store.dji.com/au/event/black-friday-sale-2020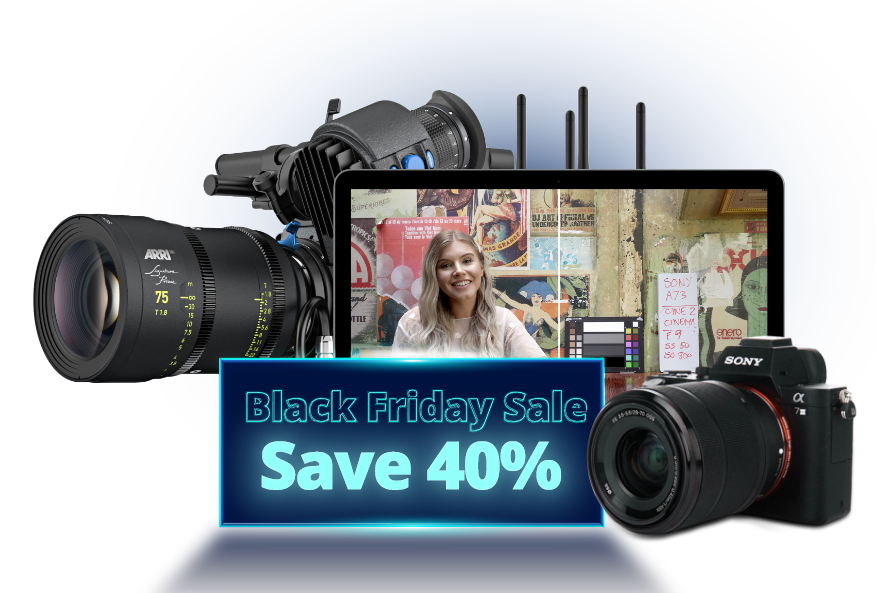 FilmConvert – 30-60% off all plugins + Bundle
CineMatch – 40% off all plugins + Bundle
Black Friday Week runs from Wed Nov 25 0900 CET to Wed Dec 2nd noon CET. There's a bunch of deals, ranging from $29 USD to $999 USD and from a 28% discount up to $58 USD for the upcoming Mono.
Specials this year:
Preorder for Mono, aka Hedge for iPad,- Exclusive bundle with Kyno (or get Kyno for free with The Full Monty)
Postlab for the first and only time ever with a discount because of Covid
Hedge 10-year license- The Hedge Fund – a non-expiring 50% discount on purchases throughout the year
Hive
C-Series Open Face kits are on sale for Black Friday from Wednesday, November 25th – to Wednesday, December 2nd at participating dealers.
Up to 30% off a range of products including tripods, monopods, & more.
Insta360
| | | | | | | | |
| --- | --- | --- | --- | --- | --- | --- | --- |
| Product | Deal | Original Price | Now | Total Save | Best Buy | B&H | Amazon Link |
| ONE R Twin Edition | 15% OFF | $479.99 | $407 | $72.99 | LINK | LINK | LINK |
| ONE R Expert Edition | 15% OFF | $729.98 | $594 | $135.98 | N/A | N/A | N/A |
| ONE R Ultimate Kit | 15% OFF | $789.96 | $645 | $144.96 | N/A | N/A | LINK |
| ONE R 1-Inch Edition | 15% OFF | $549.99 | $467 | $82.99 | N/A | LINK | LINK |
| Pro 2 Standard | 10% OFF | $4,999 | $4,499 | $500 | N/A | LINK | LINK |
Intellytech has big savings on a range of products, including:
Treat yourself to industry-leading plug-ins including Ozone Elements, Neutron Elements, RX Elements, and Nectar Elements. Plus, get creative staples like Trash 2 and Iris 2, legendary Exponential Audio reverbs like PhoenixVerb and R2, and hundreds of sounds and presets in a bundle that's sure to bring your holidays joy.
The iZotope Holiday Bundle is available for just $49 USD which is a whopping $1,162.00 off!
10% off storewide & 'Buy one get one half price' on the new Kwik Release Receiver V2
Basically 30% off everything
40% off: Hedge + Kyno bundle
40% off: Hedge + Kyno Premium bundle
Free Kyno with Hedge's Full Monty bundle
A special offer for a 5-seat premium bundle for 999 $/€
Visit https://lesspain.software/kyno/pages/news/our-black-friday-2020-deals-30-off-kyno-40-off-in-a-bundle-with-hedge/
Laowa
Specials on various lenses including 24mm probe lens.
For a limited time get a massive 25% off the following lenses.
7.5mm f/2.0
9mm f/2.8 Zero-D
10-18mm f/4.5-5.6
12mm f/2.8 Zero-D
15mm f/2.0 Zero-D
Currently on sale for $19.99 USD, normally $29.99
Join MZed Pro for just $199 PLUS get Vision Color's Osiris LUT pack free ($49 value)!
Various discounts on bags, tripods and accessories.
PFY Matrix RGB Light, EagleEye HDMI Transmitter 20% off, plus more offers.
1st annual Quasar Science Cyber Monday Sale is now live.
Rainbows, Crossfades, Q-Lions, and more. Ship dates vary per product so please note when purchasing as your order will ship once all items in it become available.
Click to get up to 30% off!
Use the code 'BF200' at check out.
Valid from Nov 24 12:00am to Nov 30 at 11:59pm PDT
$200 off any:
Rota Tray with Circular Polarizer
$599 retail, BF Special $399
Variable ND Kit A
Rota Tray + 4×5.65 Linear Pola
$799 retail, BF Special $599
Variable ND Kit B
138mm Circular Pola + 4×5.65 Linear Pola
$599 retail, BF Special $399
Variable ND Kit C
Bright Tangerine ONE Tray + 138mm Circular Pola + 4×5.65 Linear Pola
$949 Retail, BF Special $749
25% off site-wide with the code 'bf2020′
Use the code 'BLACKFRIDAY' for 25% off Sprig cable management devices.
SmallHD has some good savings on a range of monitors and monitors with built-in RX units.
These include:
From Thanksgiving 11/26 to Cyber Monday 11/30, everything on Tilta.com will be 10% off.
The sale will start at 12am Pacific time on 11/26 and end at 11:59pm on 11/30. New products such as the Camera Rig for A7S3, Camera Rig for Komodo, and DJI RS Ecosystem are all available for ordering.
Free shipping on US orders over $299 (exc. AK/HI, some products excluded) and discount offer does not stack with other coupons or offers.
Up to 20% off monitor mounts, Whaley rail system, rudy arm and quick release VESA plates.
15% Off – Whaley Rail 2 Monitor Frame Systems & Select Accessories
20% Off – VESA to Spigot Monitor Mounts (MMS12, MMS09, MMS11, MMS11-MC)
20% Off – Quick Release VESA Plates
20% Off – Rudy Arm Articulating Arm System & Select Accessories
Various offers on wireless video units at https://www.vaxisglobal.com/ and authorised resellers.