Breakthrough Photography has announced their massive collection of drop-in filters for the Canon Drop-in Filter Mount Adapter RF-EF adapter.
There are over 20 filters to choose from including Neutral Density, Dark CPL, Night Sky, Infrared, Circular Polarizers, Variable ND and B&W Polarizers.
Each drop-in filter features a rugged dust and water-resistant design.
The X4 CPL and Dark CPL drop-in filters feature a larger adjustment wheel for ultra-fine and smooth polarization adjustment.
Each drop-in filter is color coded to making filters quickly identifiable.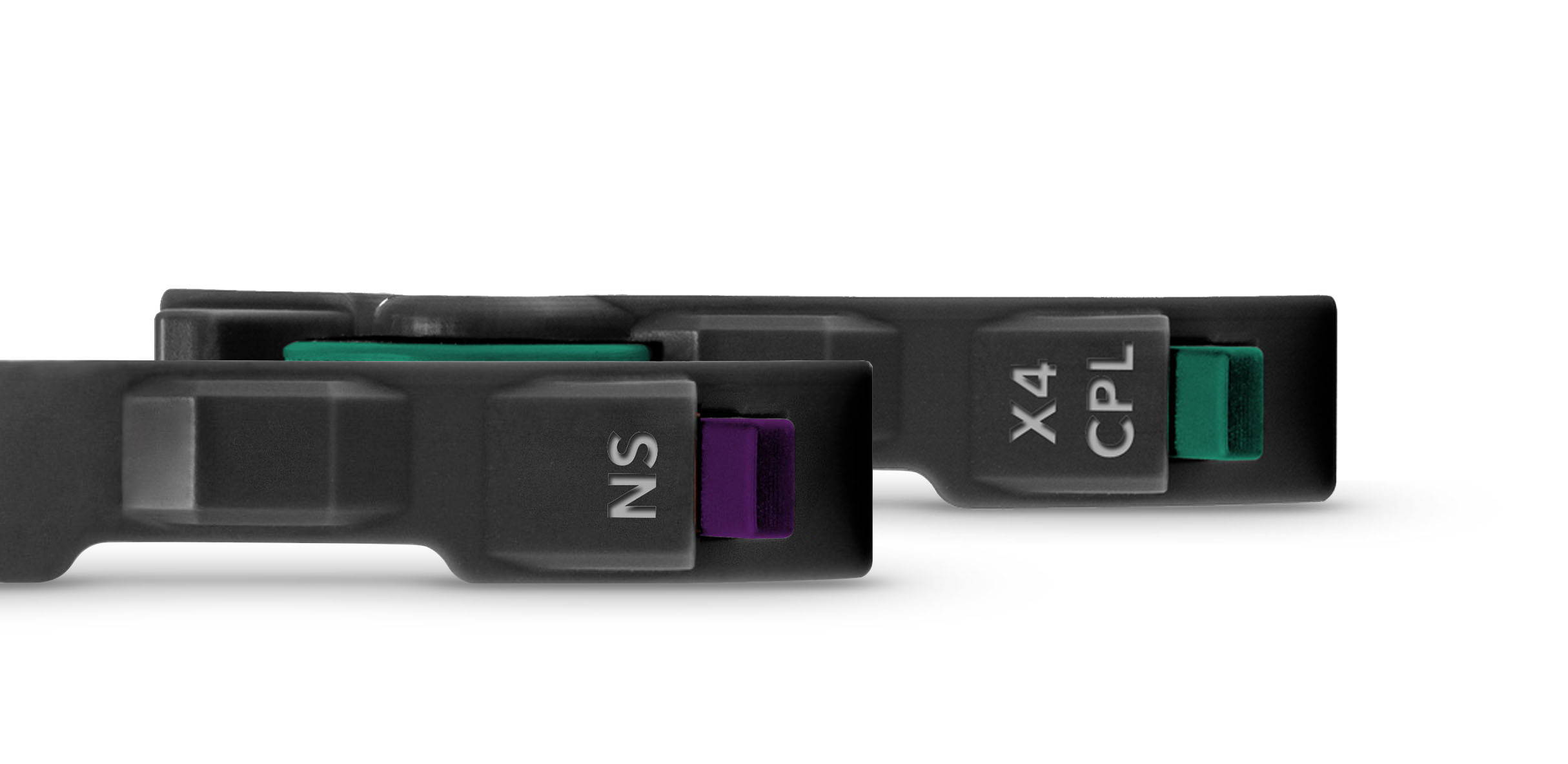 CPL Light Transmission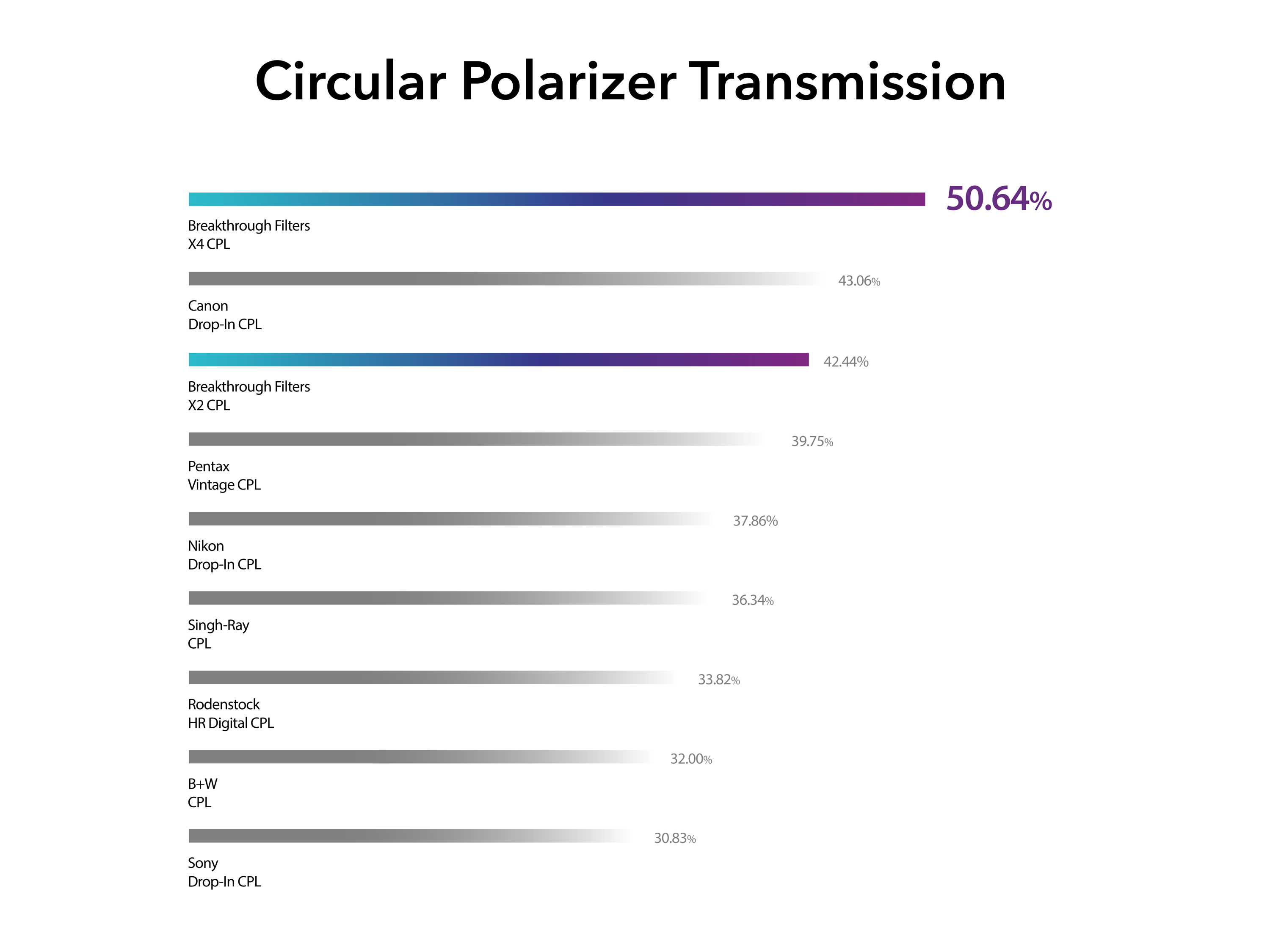 According to Breakthrough Photography's tests, the X4 CPL features higher light transmission at 50.64% when compared to other brands in the market. The Canon Drop-in CPL performs quite well with 43.06%.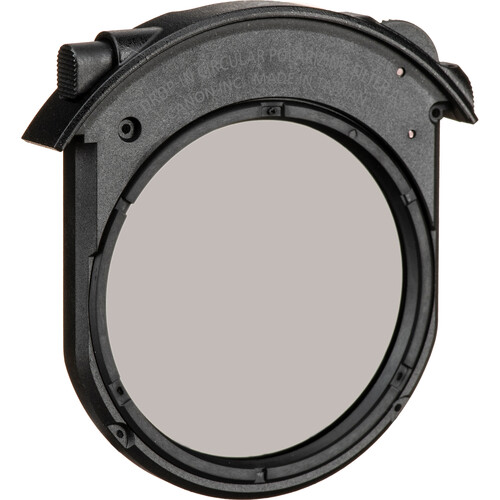 Breakthrough also has X2 versions of their filters which offers 42.44% light transmission.
They also claim that their filters are more color neutral.
ND Options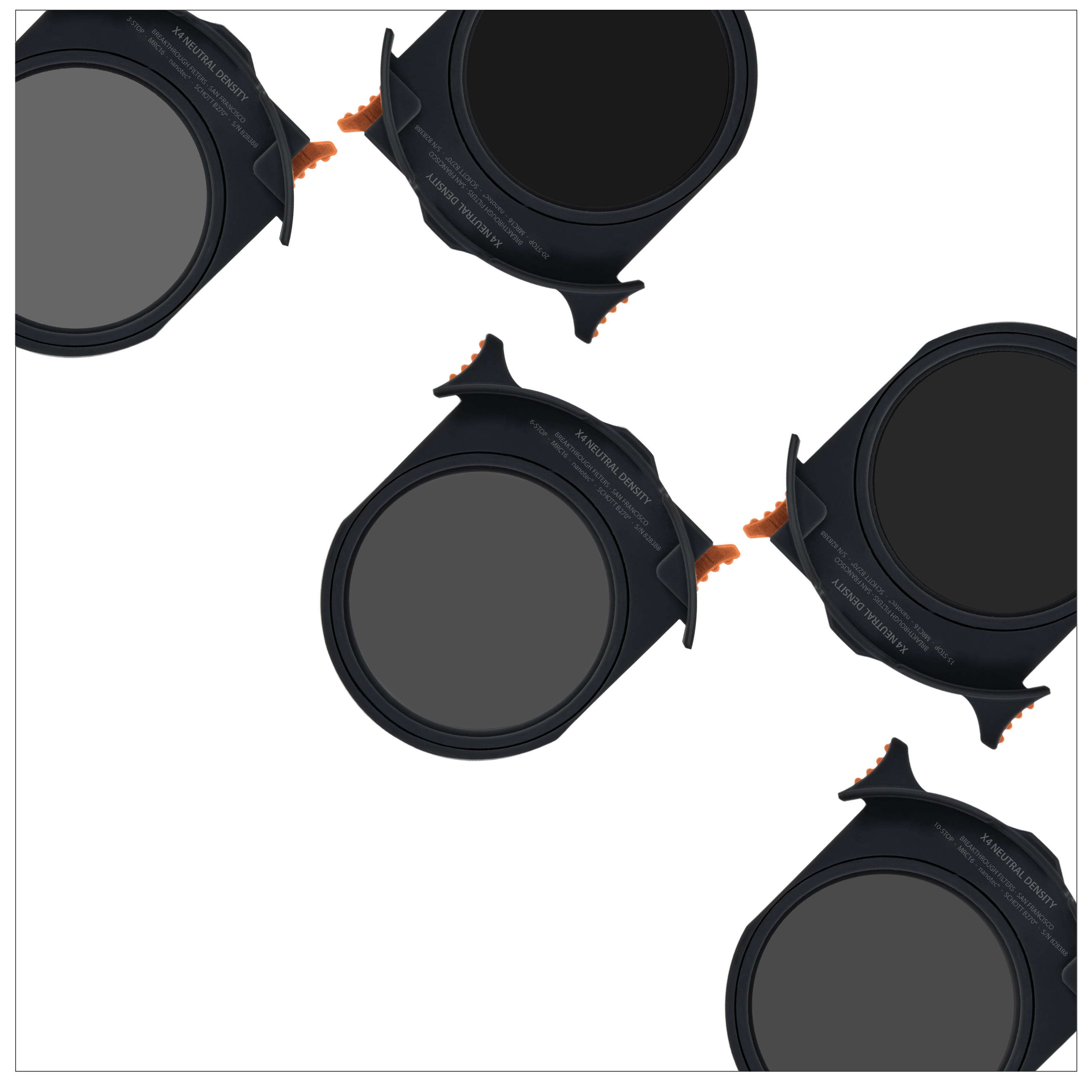 Canon only has a Variable ND Drop-in filter that offers 1.5-9 stops. Breakthrough has created both solid ND as well as two VND filters and claims impressive neutral colour performance.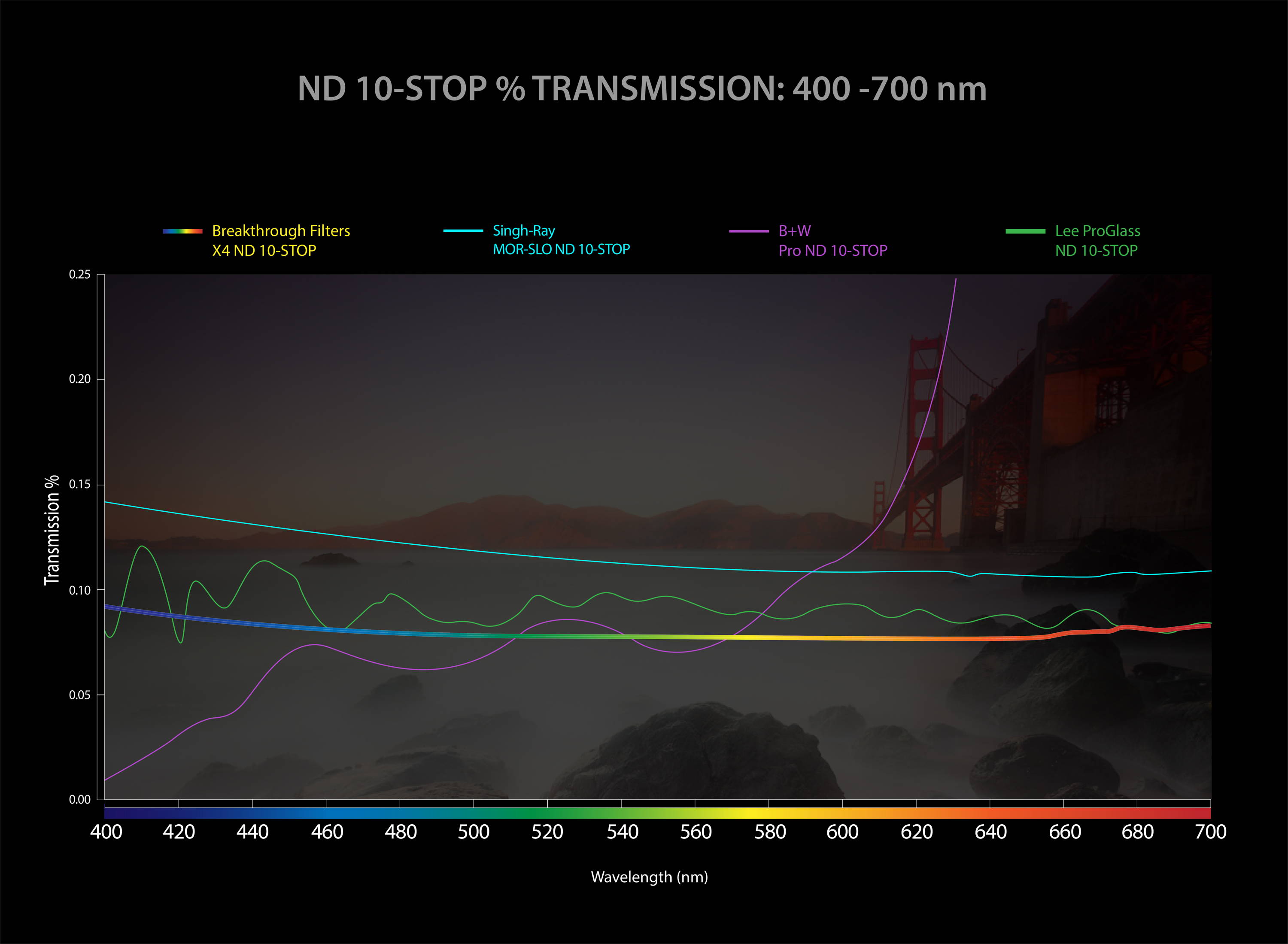 The VND-R offers 2-11 stops and the Dark VND-R offers 10-16 stops.
Since the filters are rear drop-in, it opens up a number of ultra-wide angle lenses to filtration without having to worry about vignetting or hitting the "X Pattern".
Specialty Filters
In addition to CPL & ND, Breakthrough Photography also has the Infrared 720nm and coloured filters for black & white polarizers.
RED – Turns a blue sky almost black and make clouds really stand out, giving the scene a dramatic feel. They're also excellent for increasing visibility in haze and fog.
ORANGE – Use to bring out white clouds against a blue sky, or to darken a clear blue sky. Do not use on completely overcast or dull days. Leave camera set on Normal.
YELLOW – Produces dramatic dark-sky effects without objectionably darkening the green of foreground foliage. It is very good for water scenes, views through windows and studio work.
GREEN – Mainly used for photographing plants as it helps separate the green foliage from the brightly-coloured flowers and buds. Boosts the appearance of grass and trees, but they also lighten the sky, be careful not to lose detail there.
Pricing & Availability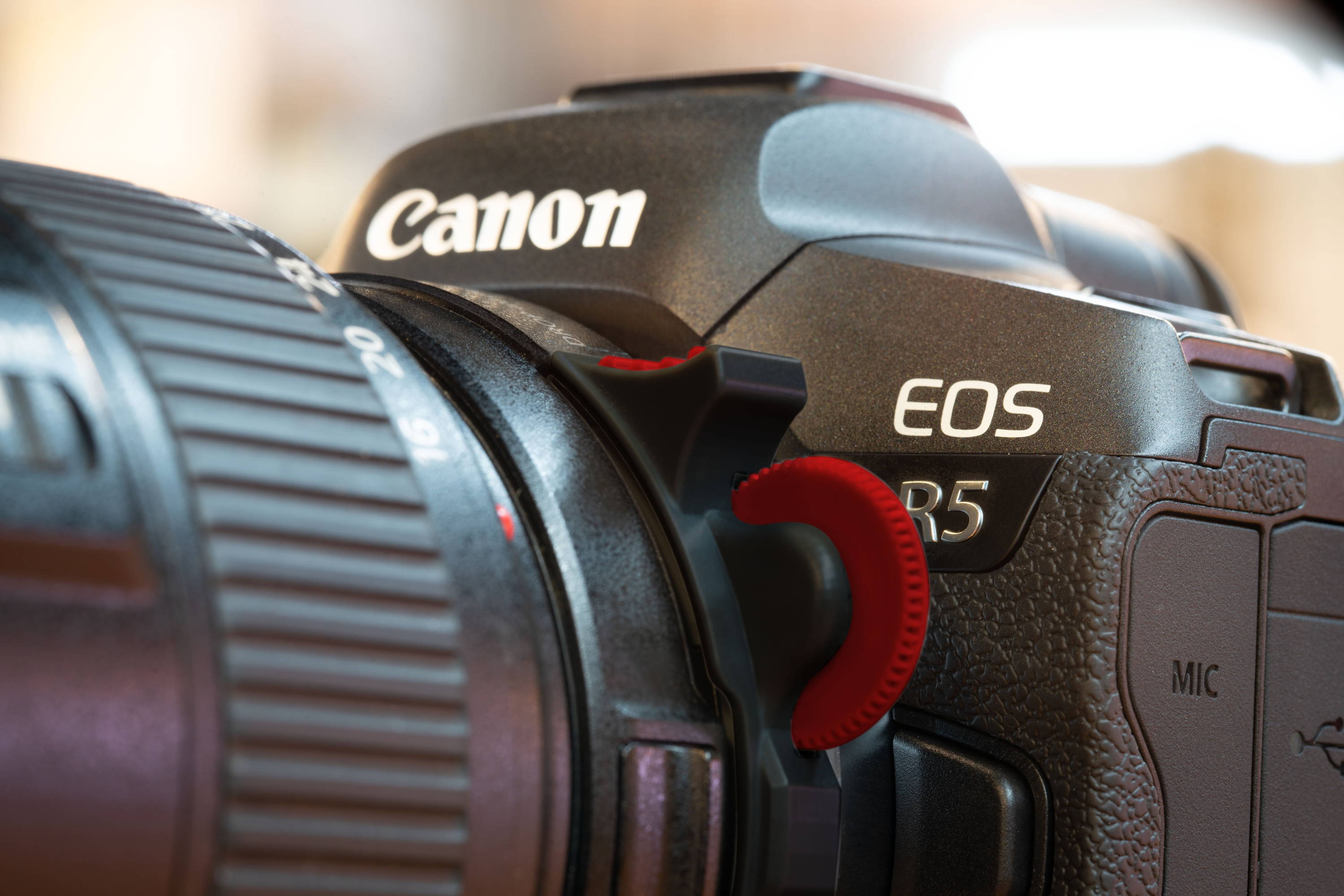 The Breakthrough Photography Drop-In Filters vary in price depending on the filter type & strength. There are also kits available which include a few filters with a handy case that doubles as 18% Grey white balance reference.
They do look more affordable though, comparing the X4 CPL, it has a retail price of $129 USD whereas Canon's drop-in CPL retails for almost double at $249 USD. The X2 CPL is even more affordable, at only $79 USD.
That being said, most people will buy the adapter bundled with the filters as the Canon Drop-in RF-EF with Circular Polariser retails for $299 USD. If you went for the $399 USD Variable ND bundle, then buying the Breakthrough Photography CPLs would make a lot of sense.
These filters will not only provide useful for Canon R5 & R6 users but also for RED KOMODO users since it also has an RF mount.
The filters are expected to ship in September.