Tokina has announced the new 25-75mm T2.9 zoom lens that matches the company's 11-20mm and 50-135mm lenses.
The new lens is a small size ground up true cinema design featuring a compact 174mm overall length and industry-standard 0.8 MOD cinema gears.
The 25-75mm T2.9 is designed to cover Super 35mm type sensors that have up to a 36mm image circle size. The larger 36mm image circle enables native coverage of RED Helium 8K, RED Dragon 6K, RED Monstro in 6K, Alexa LF and Mini LF in 4K UHD, as well as popular cinema and
mirrorless cameras from Canon, Blackmagic Design, and Panasonic in 4K DCI or 4K UHD.
Tokina will offer its 1.6x expander for EF and PL versions of the lens that expand it to a 40-120mm T4 that covers Vista Vision.
The lens has a 95mm front diameter with an 86mm filter thread just like the 11-20 and 50-135mm lenses. It also features a parfocal design to retain focus while zooming and to provide limited focus breathing.
Thoughts
25-75mm might initially seem like a strange focal length for a lens that is meant for Super 35mm coverage, especially in if you are shooting docs or factual content. It isn't quite wide enough and it isn't really long enough. However, if you own the 11-20mm (or 16-28mm) and the 50-135mm Tokina zooms, then this lens does certainly fill a gap.
I personally use a 30-76mm zoom that is a very similar length in combination with a 16-40mm and a 80-200mm.
Ok, now I am going to play the devil's advocate. Yes, it is a useful range, but Super 35mm cinema zoom lenses are not nearly as popular as they were as the industry is pushing full-frame and larger image capture. We have already seen Canon reduce the prices dramatically on two of their S35 cinema zoom lenses. The saving grace for the Tokina 25-75mm is that it does cover an image circle of 36mm so you can use it on several full-frame and larger sensors when shooting various resolutions.
The only other 25-75mm Cine zoom I know of is the Leitz Cine Zoom 25-75mm T2.8, but that covers Vista Vision sensors. It does also cost $75,000 USD. Personally I think 25-75mm makes a lot more sense on a full-frame sensor than on S35.
There are a couple of other lenses that could be considered options to the Tokina, these include the Laowa OOOM 25-100mm T2.9 lens that is coming out soon and the ZEISS 21-100mm T2.9-3.9 Lightweight Zoom LWZ.3. Both of these lenses give you an extra 25mm on the long end, while the Zeiss also gives you another 4mm on the wide end.
Price & Availability
The suggested retail price for the 25-75mm T2.9 is $5,799 USD and will ship in Spring 2021. All lenses in the series feature an interchangeable mount between PL, EF, Sony E, MFT, and Nikon F mounts.
The lens is expected to way under 2kg.
This price is quite a bit more than that of the 11-20mm T2.9 ($2,399 USD) and 50-135mm T2.9 ($3, 499 USD)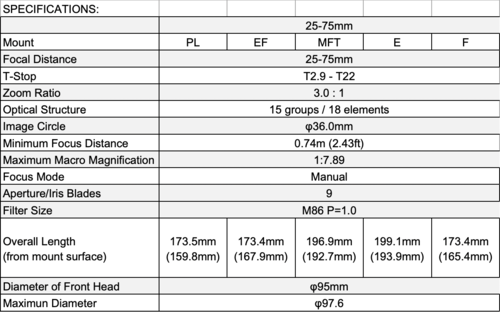 What do you think about the new Tokina 25-75mm T2.9 lens? Would you buy an S35 zoom in 2020? Let us know in the comments section below.
Like what we do and want to support Newsshooter? Consider becoming a Patreon supporter and help us to continue being the best source of news and reviews for professional tools for the independent filmmaker.