The MID49 Universal Speedball Monitor Arm (3 Inch) is s an articulating arm with combination 1/4-20 and 3/8-16 mounting screws on each end, two double-ball clamps, and one 3-inch (75mm) extension with velcro cable wrap.
Above you can watch a nice overview video that explains how the Universal Speedball Monitor Arm works.
MID49 is a brand-new camera accessory company that was formed earlier this year and it is headed up by Ryan Schorman along with his wife Elizabeth, who were the co-founders of Wooden Camera. After a two-year hiatus, they decided to form a brand new company. Mid49 basically stands for mid-life crisis.
If you want to some more of their accessories you can see the interview above that we did with Ryan at Cine Gear 2023.
Build Quality
The MID49 Universal Speedball Monitor Arm (3 Inch) is really nicely made and designed. Just like with all the other MID49 accessories I have seen so far, the beauty is in their simplicity. There is no reason to overly complicate accessories. Just make something that works.
In a nice touch, MID49 has included a simple velcro tie that you can use to help with cable management. This might be a small thing, but I don't recall any other company off the top of my head that includes one.
Everything worked well and I didn't come across anything of concern.
Size & Weight
The complete MID49 Universal Speedball Monitor Arm (3 Inch) weighs just 11.10oz / 314g. This makes it nice and light, even though it can easily handle quite heavy payloads.
My only small complaint is that there is no quick release. Yes, you can just quickly remove your monitor with the mount and the ball attached, but then you end up creating a larger footprint if you are trying to store your monitor. My advice would be to just remove the mount and ball from the monitor completely if the increased footprint is a problem for you. You could, of course, just attach the MID49 Universal Speedball Monitor Arm mount to another quick release if you wanted to, but I personally think that makes things a little too bulky and overly complicates things.
Some potential buyers may be concerned that the Universal Speedball Monitor Arm, despite not weighing much, does take up quite a bit of real estate on a camera. That is certainly a valid point, and depending on what camera you are using it with, you may find its footprint to be too big.
I would say that it is better suited for use on digital cinema cameras (even smaller-sized ones) than it is for use on mirrorless hybrids.
Backward Compatability
What is nice is that the MID49 Universal Speedball Monitor Arms is that they are backward compatible with 1″ ball Wooden Camera, Ultralight Camera Systems, and some other manufacturers' offerings.
1/4-20″ & 3/8″ In One
The MID49 Universal Speedball Monitor Arms feature a combined 1/4-20″ and 3/8″ thread system on each end of the mounts.
The 3.8″ is on the outside and on the inside of the thread it is a 1/4-20″. This allows you to easily use them on different camera rigs or equipment depending on your requirements.
Installation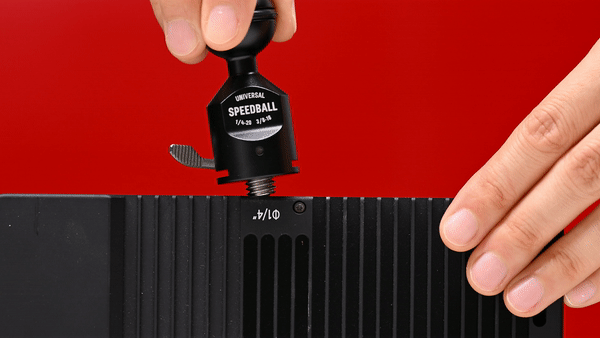 To mount the Universal Speedball Monitor Mount to a 3/8″ thread you simply twist it till it's secure.
What is really nice is that even though the mount doesn't feature ARRI locator pins, it won't twist or move around. This is because MID49 has included a cam lever in the design you simply pull up on this and it locks the mount in place.
Now, this creates a very tight and secure connection, and no matter how hard I pulled on the arm or anything that was connected to it I couldn't get it to twist or turn.
This is a very clever design and it allows you to securely mount your arm to any type of threaded hole with a 3/8″ or 1/4-20″ receptor without needing to use ARRI locating pins.
If you want to mount the Universal Speedball Monitor Arm to a 1/4-20″ thread you simply push down on the mount and twist it till it's secure.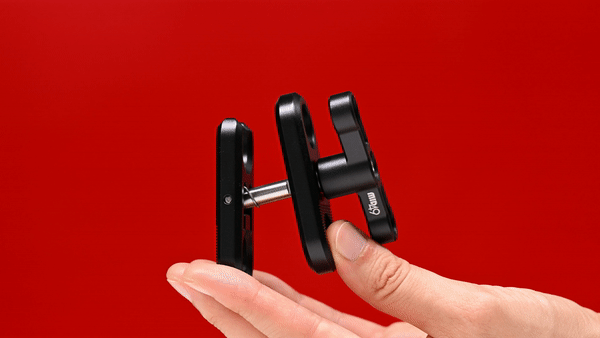 To attach the Speedball between the mounts you can simply press on either side like you would a cloths peg. MID49 has put a spring inside and also little stoppers so everything won't twist around. This is a huge improvement over previous similar systems where mounting the balls could certainly be problematic because the pieces would spin around.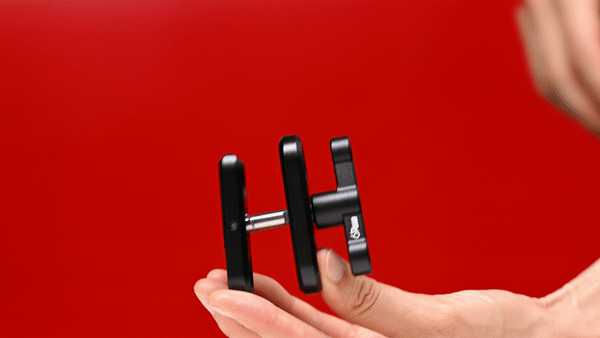 The lockdown mechanism for the arm works well and it is easy to grab onto and you you easily tighten and loosen it without issue. It provides a very good level of clamping force.
You can still get the arm itself to move if you put enough force on it, but that is not something you are likely to do in the real world.
I like the inclusion of the simple velcro strap that helps with cable management.
Real World Use
There is no such thing as the perfect monitor mount and that is why there are so many solutions out there on the market. Different solutions work better for different applications and lots of people have different preferences or requirements.
I really liked the MID49 Universal Speedball Monitor Arm. The biggest plus it has going for it is the ability to use it with 3/8″ or 1/4-20″ receptors and the fact that it locks down so securely without needing to use ARRI locating pins. In the real world these are, at least in my opinion, two of the main requirements for any monitor arm.
It is relatively easy to make adjustments to the position of the arm, but you do need to use two hands to do this.
What is also worth mentioning, is because this is a modular system, you can increase or decrease the length of the monitor arm, which is something you can't do with most other systems.
Price & Availability
The MID49 Universal Speedball Monitor Arm (3 Inch) retails for $165 USD.
MID49 also makes 6″ ($175 USD) and 9″ ($195 USD) versions of the Universal Speedball Monitor Arm and you can also buy the Universal Speedball Monitor Mount ($95 USD) by itself as well as the Universal Speedball ($45 USD).
Conclusion
You know what, I am glad Ryan had a mid-life crisis 😉 because if this is the result of that, then it was a good thing. The MID49 Universal Speedball Monitor Mount is a well-engineered, well-made monitor mounting solution that is relatively simple to use and it solves real-world issues in a clever and convenient way.
I have used a lot of different monitor mounts over the years and trying to find the perfect one is like trying to find a unicorn.
While the MID49 solution isn't perfect, it is certainly one of the best monitoring arm solutions I have come across so far.