MEIKE has announced new Drop in Filter Mount Adapters that are available in PL to X and PL to Z.
Previously these Drop in Filter Mount Adapters were available in PL to RF, PL to E, and PL to L. With these two new additions, MEIKE has all the mount options covered.
Having a PL adapter with the ability to utilize a drop-in VND filter makes a lot of sense if you are running PL lenses on cameras that don't have built-in ND like most mirrorless hybrids. The other benefit of using a rear filter adapter is that you only need to use one size of filter regardless of what lens you may be running. This is very handy if you have PL mount lenses with different-sized front diameters and you don't want to run a matte box.
Filters
MEIKE also sells a large array of other types of drop-in filters that you can also purchase. These include streak filters, star filters, and BM filters in various strengths. All in all, there are 13 different filters to choose from.
The filters simply slide into the adapter. They are easy to insert and remove.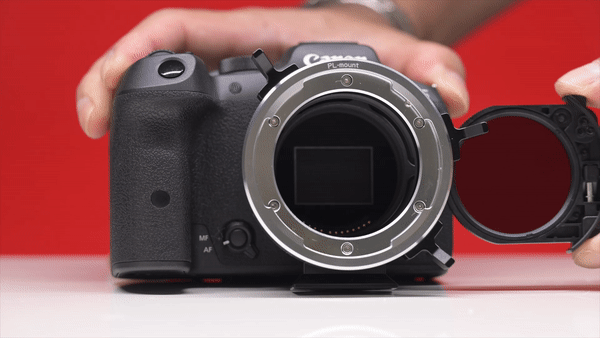 Above you can see how easy it is to do.
MEIKE does give you a little plastic hard case to store the filter you are not using. You can buy additional cases like this and clip them together.
The filters have a uniform size of 60×63.7×5.2mm, and the Canon filters will work inside their adapter. The V-ND filter strength is 1.5 to 9 stops (ND3 to ND500).
I previously reviewed the MEIKE PL to Canon RF-Mount Drop-in Filter Adapter on the site. You can read that review here.
PL to X
Key features
Model: MK-PLTX-C
Maximum diameter and length: Φ72 x 34.96mm
Packing size: 105 x 75 x 100mm
Net weight: 212g (0.24lb) (with variable ND filter)
Adapter front end: PL series lens
Adapter rear end: X-mount camera
Focus: Manual
Aperture: Manual
PL to Z
Key features
Model: MK-PLTZ-C
Maximum diameter and length: Φ72 x 36.66mm
Packing size: 105 x 75 x 100mm
Net weight: 234g (0.24lb) (with variable ND filter)
Adapter front end: PL series lens
Adapter rear end: Z-mount camera
Focus: Manual
Aperture: Manual