Back in September 2022, Teradek announced its new Bolt 6 Series, the industry's first 6GHz zero-delay wireless video solution. The Bolt 6 Series are available in a variety of different versions and configurations with an operating range from 750′ to 1500′.
For this review, I am going to be looking specifically at the Bolt 6 XT 750 12G-SDI/HDMI RX/TX set.
Bolt 6 Background
The Bolt 6 Series is claimed to be able to deliver crystal-clear 6GHz transmission in high-traffic environments while remaining fully cross-compatible with the entire Bolt 4K BB3 ecosystem. The Bolt 6 Series now joins the zero-delay Bolt 4K family in the recently-unlocked U-NII 5 frequency spectrum. This allows users to operate in the untapped bandwidth while remaining fully compatible with Bolt 4K on traditional 5GHz bands.
Every Bolt 6 device will pair with every Bolt 4K device on 5GHz bands, however, a Bolt 6 TX/RX combination is required for 6GHz connectivity.
What is the 6GHz frequency band?
Well, I am glad you asked. The 6GHz is a 1200 MHz spectrum from 5,925 to 7,125, whereas, the 5GHz frequency band is a 500 MHz spectrum. Essentially 6GHz was introduced to significantly reduce traffic in the already crowded 2.4Ghz and 5GHZ spectrums.
Now, 6GHz isn't available everywhere around the world, but quite a few countries have started to open up the 6GHz spectrum for Wi-Fi and unlicensed usage.
Above you can see data from the WiFi Alliance that shows you what countries have adopted 6GHz and what countries are still discussing its implementation.
Wi-Fi traffic is doubling every three years and the 6GHz spectrum is key to dealing with this problem. Wi-Fi networks that have access to the full 6GHz band would be able to support three to four times as many simultaneous users as existing Wi-Fi networks.
With wireless video transmission, you want to operate in frequencies with the least amount of interference and traffic possible, and this is why 6GHz devices make a ton of sense.
The Bolt 6 series can transmit and receive images and audio over the newly-available 6GHz frequency band as well as the industry-standard 5GHz, which dramatically reduces signal congestion in challenging RF environments while remaining fully cross-compatible across all Bolt 4K devices, including the Bolt Manager App for iOS and Android. Every Bolt 6 device will pair with every Bolt 4K device on 5GHz bands, however, a Bolt 6 TX/RX combination is required for 6GHz connectivity.
New features
New Bolt 6 features on all models include an improved Long Range mode and an SDI Eye Pattern Tool to check SDI cable integrity. Bolt 6 MAX models also feature integrated flexible H antennas for increased field longevity.
What models are in the Bolt 6 Series?
Just like the Bolt 4K series, the Bolt 6 Series represents an ecosystem of devices optimized for different user workflows and that is why there are a few different products being introduced:
Bolt 6 XT
The Bolt 6 XT offers the most upgrades in the Bolt 6 family, including a redesigned form factor that's smaller, lighter, cooler, and up to 50% quieter than its Bolt 4K counterpart. Bolt 6 will also feature an integrated 5-pin USB for a more seamless SmallHD camera-control setup.
Bolt 6 LT
The Bolt 6 LT fills the same demand for a compact, lightweight solution with a 750–5000+ ft. range as Bolt 4K LT, and is fully-capable of operating on the 12 U-NII 5 channels like the rest of the Bolt 6 line. Bolt 6 LT also comes in an HDMI-only version.
Bolt 6 Monitor Modules
The Bolt 6 Monitor Modules offer ranges of 750–1500′ and integrate seamlessly into SmallHD Smart 7 Series Monitors like their Bolt 4K counterparts.
Build Quality
As you would expect from a product at this price, the Bolt 6 XT is very well-built.
The TX and RX are made out of Aluminum and Polycarbonate. They have been designed to stand up to the rigors of field use.
There is nothing I came across that concerned me when it came to build quality.
I like the robust on/off switch.
Size & Weight
The Bolt 6 XT TX unit weighs in at 12.1 oz / 344 g and it has physical dimensions of 5.2 x 3.6 x 1.1″ / 132 x 91 x 27 mm.
The Bolt 6 XT RX unit weighs in at 15.2 oz / 430 g and it has physical dimensions of 5.5 x 4.4 x 1.1″ / 139 x 112 x 27 mm.
This is not an overly small-sized system, but in saying that, I found the size and weight to be manageable for the cameras I was using it with. This is not going to be a system that is suitable for use with smaller-sized digital cinema cameras due to its physical footprint.
If you want something smaller in the Bolt 6 range that still has SDI, then you would need to go to the LT version, but that can only sens and receive HD images.
I know we would all love a wireless video system that was the size of a matchbox, but that's just not possible.
Inputs & Outputs
The Bolt 6 XT TX features the following inputs and outputs:
1 x HDMI 2.0 Input
1 x BNC (12G-SDI) Input
1 x BNC (12G-SDI) Loop Output
1 x LEMO 2-Pin (28 VDC) Input
1 x USB-C 2.0 Input
1 x LEMO 5-Pin 2.0 Output
The Bolt 6 XT TX features the following inputs and outputs:
1 x HDMI 2.0 Output
1 x BNC (12G-SDI) Output
1 x LEMO 2-Pin (28 VDC) Input
1 x USB-C 2.0 Input
1 x LEMO 5-Pin 2.0 Output
Having 12G-SDI allows you to input a DCI 4K signal up to 60p. I can then send that DCI 4K signal to a 4K monitor and see an uncompressed 4K image on a monitor. There are very few wireless video options out there that allow you to do this.
The Teradek Bolt XT isn't sending compressed video with latency. It is sending a fully uncompressed signal with close to zero latency (well, as close to zero as you can get. No wireless system is really zero in the scientific sense). Teradek lists the latency as being < 0.01 ms. This is why you pay more money for a high-end wireless video system.
SDI (10-Bit 4:4:4/4:2:2 RGB, YCC)
DCI 4K: 60/59.94/50/30/29.97/25/24/23.98
UHD 4K: 60/59.94/50/30/29.97/25/24/23.98
1080p: 60/59.94/50/30/29.97/25/24/23.98
1080i: 60/59.94/50
720p: 60/59.94/50
576p: 50
576i: 50
480p: 60/59.94
480i: 59.94
Above you can see what SDI video signals the Bolt 6 XT is capable of handling. What is nice here is that I can send a full 4K DCI 10-bit 4:4:4 or 4:2:2 uncompressed latency-free image from my camera to a monitor.
HDMI (10-Bit 4:4:4/4:2:2 RGB, YCC)
DCI 4K: 60/59.94/50/30/29.97/25/24/23.98
UHD 4K: 60/59.94/50/30/29.97/25/24/23.98
1080p: 60/59.94/50/30/29.97/25/24/23.98
1080PsF: 30/29.97/25/24/23.98
1080i: 60/59.94/50
720p: 60/59.94/50
576p: 50
480p: 60/59.94
576i: 60
480i: 59.94
Above you can see what HDMI video signals the Bolt 6 XT is capable of handling.
The Bolt 6 XT can also send 2-Channel 24-Bit 48 kHz audio as well as having full-timecode support.
Power
Both the TX and RX units can take a 6 to 28 VDC input via the LEMO 2-Pin.
The Transmitter draws 20 W and the Receiver draws 18 W. This is something you need to be aware of when powering the TX unit directly via your camera.
I personally just power both via LEMO 2-pin to LEMO 2-pin cables. However, there are several other powering options you can also use:
These are the cables that Teradek makes and sells, however, you can get cables from other third-party brands as well.
You can also get items such as the Wooden Camera Dual Battery Plate Cradles for Teradek Bolt LT Transmitters. These are available in the following versions:
Now, while these will work well, you do need to know that they aren't a drop-in powering solution for the TX unit. You still need to physically attach a power cable and SDI or HDMI cable to the TX.
You can also buy the TX and RX units with a built-in V-mount or Gold mount plate. Teardek also sells both AB Gold mount and V-mount female and male plates that you can buy separately.
Mounting
Mounting accessories on cameras or monitors, etc. can be a frustrating experience. We have all been there! Coming up with the best mounting solution usually revolves around a lot of trial and error. There is never going to be one perfect solution that works for everyone.
I thought a good solution might be the Wooden Camera Offset Mounting Bracket for Teradek Bolt 4K LT TX, however, unfortunately, this only works with the LT model and not the XT.
The design of the Teradek Bolt 4K XT TX is slightly different from that of the LT, so it does make it trickier to mount.
For my particular needs, I ended up using an ARRI Articulated Mounting Plate AMP-1 for ALEXA 35. This works really well, but it is an expensive product. It allows me to remove the TX unit from the camera very quickly, or simply move it up and down to get access to the ports.
For mounting the XT RX I just use a Wooden Camera Universal Ultra Arm (Combo 1/4-20 & 3/8-16), however, you could use any arm or other type of solution depending on the monitor you want to attach it to.
What do you get?
The Teradek Bolt 6 XT 750 12G-SDI/HDMI Wireless Transmitter/Receiver Kit comes in a nice hard case with custom foam cut-outs.
Bolt 6 XT 750 12G-SDI/HDMI Transmitter
Bolt 6 XT 750 12G-SDI/HDMI Receiver
2 x 2-Pin to D-Tap Power Cable (18″)
USB 2.0 Type-A Male to Type-C Male Cable (39″)
2 x HDMI Type A Male to HDMI Type A Male Cable (18″)
2 x BNC to BNC 12G-SDI Cable (18″)
AC Adapter with Cable (6′)
9 x Antenna
Light Stand Adapter
Shoe Adapter
Carry Case
Limited 1-Year Warranty
Above you can see what you get in the kit. While you get almost everything you need, for the price of the system I would have liked to have seen some additional 2-Pin LEMO to 2-Pin LEMO cables included.
Set up & ease of use
A good wireless video solution should be easy and fast to set up and get running. In all honesty, this shouldn't be a difficult task, and if it is, then the product has already failed in my opinion.
The boot-up time is around 12 seconds from turning the system on to receiving an image.
Pairing new TX and RX units takes around 15 seconds. I used the Teradek Bolt Manager app to do this, but you can do it directly from the TX and RX if you choose.
What you can also do if you are not using a 4K monitor is to still send 4K video and then tell the RX unit that you only want it to output HD.
The Teradek system is virtually almost plug-and-play. Once both units are paired they remember each other and I found that it didn't matter how many times I turned them on or off they would always just connect back up straight away. This is how a wireless system should be, quick and easy to use.
So far it's all looking good, but I wanted to see what would happen if I lost connection, so I turned the receiver off and then back on again. It took roughly 9 seconds for the receiver to re-establish a connection which was reasonably quick.
Next, I turned the transmitter off, which is more commonly what may happen when you change over a camera battery or power the camera off and then on again. This time it took around 12 seconds for the picture to re-establish.
What about if I pulled out the SDI from the camera? This time the system re-established connection in under 5 seconds.
So what would happen if I suddenly changed the frame rate to 60fps (still in a 23.98p recording mode) on my camera while the system was on? Absolutely nothing changed. I didn't even lose the picture for a second. When I changed the camera back to 23.98fp, again, I didn't lose the picture.
Now the Bolt 6 XT is claimed to support up to 60p in 4K, so I decided to test that claim. When changing my recording project rate from 23.98p to 60p you will lose the picture for about 3 seconds. Even when changing from 23.98fps to 120fps in UHD, the Bolt 6 XT maintained the picture without any drop.
I really tried hard to fault Bolt 6 XT with all these tests, and no matter what I did the system always re-established a connection without me needing to do anything. Not once did I have to reboot both the transmitter or receiver. This is a strong indication to me that the system is reliable and easy to use.
Bolt Manager
The Teradek Bolt Manager app is a very easy and intuitive way to pair, monitor, and make changes to your Bolt 6.
There are numerous sections for changing parameters.
One of the nice included features of the Bolt Manager is the Spectrum Analyzer. Here you can check for interference on certain frequencies, check the Signal Quality, SNR, and also the Range. What I also like is that it will tell you the actual range in feet between the TX and RX units.
There is also an advanced HQ Spectrum page that you can use, although the system will not transmit or receive once you enter this screen.
Now strangely, on the Bolt 6 system I was testing it kept coming up with 'Outdated Firmware'.
However, when I went to the firmware upgrade section it was saying that my devices were up to date.
This isn't an error. What you need to do is download the Bolt Manager software for a Mac or PC and then physically attach your TX and RX units (you do this one at a time) via the included USB-C to USB cable. You can then download the latest firmware here. Once the device is attached and recognized in the Bolt manager software you can do the firmware update.
Fan Noise
One of the biggest complaints about previous Bolt 4K systems was the fan noise. Some users did find it an issue as the units did tend to run quite hot.
With the newer Bolt 6, Teradek has improved the design so that it has better thermal efficiency. They also claim that the fan noise is now up to 50% quieter than the Bolt 4K.
The TX unit fan is audible, but it is certainly significantly quieter than the Bolt 4K. Whether it is 50% quieter is debatable, but I personally found the noise to be acceptable.
The RX unit is certainly louder and you wouldn't want it to be anywhere near where you were recording critical audio. I do personally find the fan noise from the RX unit to be too loud.
Both the TX and RX units do get quite hot and you can certainly feel the heat if you physically touch them.
Why would you want a wireless video system that can transmit and receive 4K?
Well, for numerous reasons. The main reason, at least in my opinion, is that if you are pulling focus remotely at lower T stops you want to be looking at the clearest and most accurate image you can. Reshoots are expensive and you don't want to be messing up focus because you were looking at an image that was difficult to ascertain whether it was actually in focus or not.
There is a noticeable difference if you start zooming in on a monitor to check critical focus when you are looking at an actual 4K image as opposed to an HD one. Above you can see two different frame grabs I have captured directly from a SmallHD Cine 13. The first was when the camera was outputting 4K to the TX and then sending a 4K signal to the RX, and the other is when the camera was outputting HD to the TX and sending an HD signal to the RX. Now, it is a bit hard to show you on here, just how noticeable the difference is, so let's look even closer.
If I now zoom in massively on those images you can clearly see the difference
The other reason for using a 4K wireless video system is that your client, director, producer, etc. can see a proper uncompressed, high-quality 4K image on a monitor. They don't have to look at an HD image or a compressed video signal with latency. If you are capturing in 4K and that is what the deliverable is going to be, then it makes sense to also show the people paying the bills on set a 4K image as well.
In saying that, you could also argue that if the client, etc. isn't looking that carefully at an image they may not even know the difference.
Latency
The main reason you pay so much more for high-end wireless video systems is their ability to transmit latency-free images. If you are trying to pull focus remotely on a moving shot at a wide-open T-stop with a compressed wireless system, good luck! I have tried this and the latency lag means that you are always making an adjustment after something has already happened. This results in a lag and you end up going out of focus. For critical shots where time is money, you cannot afford to be mucking around with a compressed wireless video system. If you are just using something for monitoring then a little bit of latency is not the end of the world, but for critical focus adjustment remotely you need an uncompressed system.
I set up a series of latency tests where the Teradek Bolt 6 XT TX unit was receiving a signal directly from the camera via SDI and a second SDI output was sending an independent signal to a SmallHD monitor. The Teradek Bolt 6 XT RX unit was outputting a signal over SDI to another SDI monitor.
I then took a series of photos at a high shutter speed of both monitors at random intervals to see if there was any latency. As you can see above, the monitors are showing the exact same time on all of the shots. This is why you pay a lot of money for high-end wireless video systems.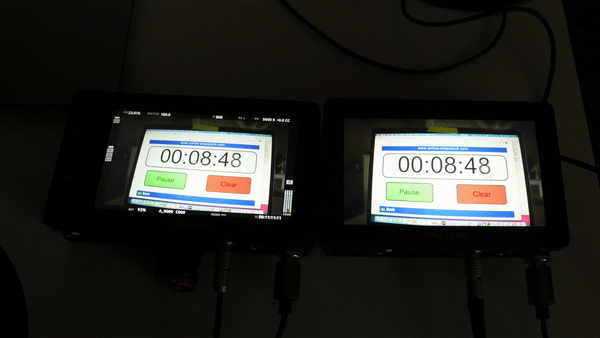 Real-world performance
I used the Bolt 6 XT system on a recent commercial shoot and it was rock solid. Not once did I have a single connection issue, even when changing over batteries and powering the camera on and off. Once it is powered on it just connects up and lets you get on with what you are doing.
Wireless range and performance are always hard aspects to test because it really depends on where you are using it. In one location it may work flawlessly and in another, you may run into problems.
To see what the range of the system was I set up a test where I could measure the exact distance at which the Bolt 6 XT would still get me a perfectly stable picture. I'm in the middle of Tokyo, so it's usually a good indicator of how well a wireless system works given the amount of wi-fi traffic and interference in this city. I have tested more than 30 different wireless video systems in this exact same spot, so I can get a comparison of how they all compare.
The Bolt 6 XT 750 has a range of, you guessed it, 750′ / 228.6m (line of sight). For the type of work, I do, 228.6m is all I need.
I found that I still had a good clean, stable signal up until around 228.6m (750ft) from where the camera was as long as I maintained a line of sight. Above you can see that the Bolt Manager software shows you the signal strength. The signal strength dropout that you can see is where I turned around and blocked the RX unit from having direct line of sight to the TX unit.
It is important to note that this distance was only achievable when the Bolt 6 XT was set in its Longer Distance (normal quality) mode. If you set it in the Best Quality (short range) mode I found that I was lucky to get 50m / 164′ before I started seeing image artifacts. In the Auto Mode it will just alter the signal depending o the distance between the TX and RX units. I found that it was pretty safe to just leave it in this mode most of the time.
The range I got was the same that is quoted by Teraek for line of sight. Given the test took place in the middle of Tokyo where there is an awful lot of RF and WiFi traffic this was a good result. I always test wireless video and audio devices in the exact same place so that I can get a benchmark.
When the signal does drop out on the Bolt 6 XT system you will get a warning on the screen connected to the Rx, the RX itself, and on the Bolt Manager app saying that it is Out of Range. I found that I got to about 880′ line of sight and still had a clean image, but it dropped out as soon as there wasn't line of sight anymore.
Once the signal dropped I found that it connected up again instantly once it came back into range. What was interesting is that even though the Bolt Manager app shows that it is still receiving a signal and that signal is good, I had to get back under 750′ for it to connect up again. I imagine that this is some sort of software feature that doesn't want you to see a signal until you are back within the recommended operating range.
Not once did I have to turn the unit off and power it back up again. Anytime the signal dropped it was able to re-establish itself without me having to do anything. I really liked this aspect of the Bolt 6 XT system as it allowed me to get on with shooting and not have to worry about having to worry about my wireless video system. Not once did I experience any noticeable latency.
Competition
There is very little in the way of competition if you want to send an uncompressed, latency-free 4K signal using SDI.
The Crystal Video Technology Aurora UHD 4K Wireless Video Transmission System could be considered a competitor. It retails for $12,500 USD.
Pricing & Availability
The Teradek Bolt 6 Series ranges in price from $1,990 USD for a Teradek Bolt 6 LT HDMI 750 Transmitter/Receiver Kit up to $11,990 for a Teradek Bolt 6 XT 1500 12G-SDI/HDMI Wireless RX/TX Deluxe Kit.
The kit I was reviewing is the Teradek Bolt 6 XT 750 12G-SDI/HDMI Wireless Transmitter/Receiver Kit that retails for $6,490 USD.
High-end wireless video systems are certainly not cheap and you have to think carefully about what your needs and requirements are. At least in my opinion, if you want to pull focus remotely from a monitor then you need an uncompressed system. Sure you could use a compressed system that has latency, but I have tried this numerous times, and it never works well.
Below you can see what the monitor modules retail for.
You can see all of the available kits here.
Conclusion
High-end uncompressed wireless video systems are expensive, but when time is money you don't want to be having issues on set that slow down production. I also want my 1st AC to have the best possible image being transmitted wirelessly so that they can pull focus accurately with the best possible tools. I also want my client or director to be able to see the best possible image I can provide.
Look, the Bolt 6 XT is certainly not going to be a product for everyone as it is being aimed at a specific section of the market.
It is well-made, reliable, and most importantly it can send an uncompressed 4K image with no latency. The downsides are certainly the price, physical size, and fan noise of the RX unit.
If you are looking for a high-end wireless video system that can take a 4K signal over SDI and then send a 4K uncompressed signal with no latency, then there is no better product on the market.