The Bright Tangerine Axl EVF Mount has been designed to not only make your EVF safer and more secure but also to eliminate having to fiddle around with multiple screws and knobs.
What is it & What does it do?
The Axl features a 3-Axis tightening system that allows you to position your EVF using one, single knurled thumbscrew. It also features what Bright Tangerine is referring to as a Drop-free design so that the EVF or monitor won't flop down, even when completely loosened. There are limiters on the tilt adjustment to keep the orange highlighted tightening screw visible and accessible.
While the bracket has been primarily designed to replace the stock EVF mount for certain cameras, it is not going to be the easiest solution to use on cameras where you are trying to set up an EVF solution from scratch.
Even though the Axl EVF Bracket is able to work with a variety of different EVFs, but you need to be very aware that you need to buy the appropriate version to use with your particular set-up.
If you need to, you can also purchase the adapters individually which is handy if you need to use the Axl EVF Bracket with different EVFs that you may own.
The Axl uses the ARRI dovetail standard so you can use ARRI EVFs natively, or use the Bright Tangerine Axl adapters on the ARRI MVB-1 bracket.
Build Quality
Like all Bright Tangerine products, the Axl EVF Mount is beautifully made. The design of it is very clever and well thought out.
The fact that it has been engineered so that one thumb screw is able to provide the same amount of tension to multiple different parts is very clever.
What you need to factor in is the build quality does come at a cost, and that cost is weight. The Axl EVF Mount tips the scales at 295g (10.4 oz) according to my scales. You then need to factor in the weight of a dual 15mm top rod assembly and the actual EVF itself. This may not be an issue with larger-sized cameras, but with smaller camera setups you will need to factor this in.
How easy is it to install?
Now, here is the thing. You can't just attach the Axl EVF Mount to any camera. You need to use a dual 15mm rod mount adapter or a top plate that has an integrated one. The majority of cameras out there don't feature a dual 15mm rod mount adapter and you will either have to purchase one or buy an aftermarket top plate for your camera that either features one or allows you to attach one.
Above you can see that to put it onto a Canon C70, I had to first purchase a SmallRig Super lightweight 15mm RailBlock v3. I then attached this to the top of a Wooden Camera C70 Top Plate. While this works well, you do need to factor in the additional cost of the top plate and the railblock on top of the price of the Axl EVF.
Installing the Axl EVF Mount is super easy once you have the parts in place to make it work. All you do is slide the Axl EVF Mount onto the included 15mm rods and tighten the thumbscrew.
You do also need to attach the appropriate EVF adapter bracket to your EVF However, this is only something you need to do once. It is a little odd that Bright Tangerine doesn't include an Allen key to attach the EVF adapter, especially considering that this isn't a cheap product.
I also installed it onto a Kinefinity MAVO LF using the same SmallRig Super lightweight 15mm RailBlock v3.
Above you can also see a video that shows you how to install it on a Canon EVF-V70 which requires disassembly of the stock bracket, and there is one screw that has a reverse thread.
Real World Use
In the real world, the ability to adjust your EVF and move it into the position you want by just loosening one thumb screw makes a huge difference. With most EVF brackets it is often a case of adjusting three separate axes to get it into the position you want. This can be frustrating, especially if you are trying to do something in a hurry.
Now, the only slight downside with the Axl EVF Mount is that the forward and backward adjustability is quite limited. However, in saying that you can still move it backward or forwards on the 15mm rods without having to additionally undo anything else. If you do require move forward and backward adjustability, you could simply just use slightly longer rods or situate the rods at the front or back of the 15mm rail block.
The other slight issue is that as you need to attach it to a 15mm rail block this is going to limit where you can place it on certain cameras. On a smaller camera like a Canon C70, I was only able to place the 15mm rail block in a couple of places. Because of this, I couldn't move the EVF further to the right to improve the center of gravity.
Now, as an experiment, I also tried attaching it to a single rod instead of dual rods to see what would happen. Unfortunately, the EVF and Axl EVF Mount are too heavy and everything will just fall to the left.
Usually, with a one-release point mechanism, your monitor or EVF will suddenly just fall and end up smashing against the camera body or something else. Bright Tangerine has thought about this carefully and the EVF doesn't suddenly just fall when you release the thumbscrew. Although, with larger EVFs such as the Zacuto Gratical it will still move down because of the weight, but not at a drastic speed.
I also like how the tilt adjustment lever stays next to your EVF when you move it and when the tilt reaches a certain point it stays in place so you don't have to go searching for it. Again, this is a well-thought-out and executed piece of design.
As I previously mentioned, I also tried the set-up with a Kinefinity MAVO LF and I found that it worked really well, especially when I wanted to put the camera on my shoulder. I was able to place the Zacuto Gratical EVF in the exact position I needed to.
Are there any downsides to having a single thumbscrew release for all three axes? No, not that I could see.
How does it compare to a Zacuto Axis Mounting System when using a Zacuto Gratical?
As I was trying out the Bright Tangerine Axl EVF Mount with a Zacuto Gratical I wanted to see how it compared to Zacuto's own Axis mount.
Now, just to be completely transparent here, I have the older version of the Zacuto Axis Mount which they no longer make. They now make a slightly smaller version called the Axis Mini. Both versions, however, feature the exact same design and operation.
The Zacuto system requires three different parts; the Axis Mini, a Z-Rail Axis Mount, and a 5″ Z-Rail.
Now, the benefit the Zacuto system has over the Bright Tangerine option is that you can mount your EVF in a lot more positions because you don't have to attach it to a 15mm rod block.
It also has a greater extension range when moving the EVF forward or backward, however, you could simply just use longer rods with the Bright Tangerine to extend the length.
With the Bright Tangerine, the backward and forward adjustability will be limited unless you decide to run longer rods. Running longer rods out towards the front isn't an issue, but you don't really want to be running rods towards the back that are longer than the top of your camera.
Again, I have to stress that these are issues I experienced with this particular camera. Depending on what camera you are using it with, you may have zero issues or a lot of issues.
The Bright Tangerine has more lateral side-to-side adjustability, which is good if you are using a camera on your shoulder or operate with your left eye.
This added length and adjustability means you can position the EVF quite low which is handy if you have your camera up high on a tripod.
With the Axl EVF Mount, you can't position your EVF as low.
The biggest advantage the Bright Tangerine Axl EVF Mount has over the Zacuto is you only need to loosen one thumbscrew to adjust everything. With the Zacuto, you have to individually adjust every axis. This makes it super slow to use when you are in a hurry.
As you can see, there are cons and pros to both systems and it really does come down to how you operate and what camera you are using as to what would be a better choice.
Since the Axl is compatible with ARRI, you can also use viewfinder extensions like the ARRI VEB-3 on larger cameras.
LeftField Sliding Top Plate Kits
Bright Tangerine also makes a range of LeftField sliding top plate kits that work with certain cameras. As these feature 15mm rod inserts at the front, you can use them to directly attach the Axl EVF Bracket.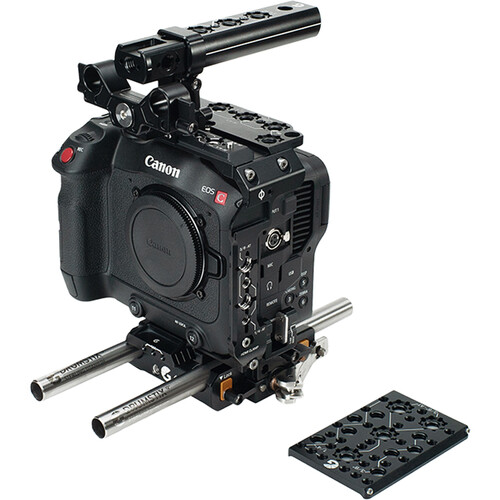 You really need to be aware that the Axl EVF Bracket is not really a universal solution, it is only going to work with certain cameras. As it doesn't have any way of being screwed down onto a top plate or top handle you can only use it on 15mm rods. This does limit the number of cameras you are going to be able to use it on, especially if you don't want to spend additional money buying a solution to give your camera the ability to insert front-facing top rods.
Price & Availability
The Axl EVF Bracket is certainly not what I would call an 'affordable' solution. $690.03 USD for the Axl EVF Mount Base Kit for Zacuto Gratical/Kameleon that I was testing is a lot of money to spend on an EVF mount. Ironically, the Axl EVF Bracket for the ARRI is the most affordable solution out of all of the options.
The Axl EVF adapters are available from $157 USD to $167.
In saying that, the Zacuto Axis Mini, a Z-Rail Axis Mount, and a 5″ Z-Rail will still set you back $510 USD.
If you are using it on a camera where you are not replacing the existing factory EVF mount and you have to purchase something like a LeftField sliding top plate kit you are going to be looking at around $1,000 USD by the time you buy it and the Axl EVF Mount Kit.
Competition
There are not many options when it comes to universal EVF mounts. Most of the available solutions tend to be camera-specific.
ARRI offers their MVB-1 & adapters for a range of EVFs including the EVF-2, Sony DVF-EL200, Canon EVF-V70, Gratical & more. The kits retail for $900 while the adaptors start at $230 USD.
The Wooden Camera AIR EVF Mount with Friction Knuckle & 15mm Rods for ARRI ALEXA Mini MVF-1 is one option. It retails for $550 USD.
Wooden Camera also has the UVF Mount for MVF-1/2 on ARRI ALEXA Mini/Mini LF (With 15mm Rod Clamp) $449 USD for quite some time.
Zacuto has its own Axis Mini EVF Mount ($332.50 USD) which is designed to work with its range of EVFs as well as certain other proprietary EVF solutions from companies such as Sony. While this does offer a lot of adjustability and range, it is a little cumbersome to use if you are in a hurry.
The Axl is also designed to replace existing stock EVF brackets.
The Canon EVF-V70 comes with quite a bulky bracket and also requires you to purchase the CL-V2 bracket for $299 USD. The clamp interfaces between the stock top handle and the EVF bracket, so it also means you have to use the top handle.
Conclusion
The attention to detail is something that certainly makes the Bright Tangerine Axl EVF Mount stand out from the competition. It has been well thought out, well designed, and most importantly, it makes EVF adjustability a whole lot easier.
I personally think this is a product that is better suited as a replacement item for standard mounts that are come with expensive proprietary viewfinders. Yes, you can use it with more affordable EVFs from Zacuto, but you then have to factor in whether it will work well with the camera you are using. In saying that, I did get it to work well on both a Canon C70 and a Kinefinity MAVO LF, which are vastly different types of cameras.
As a replacement part for Canon LCD screen mounts, it also works well, however, this is only going to be the case if you are running after-market top plates that have the ability to install or feature built-in 15mm rod blocks.
Look, it isn't going to be a product that is suitable for everyone, but if you are using an expensive EVF with your camera, it is certainly a product that deserves a very close look.
To learn more about the Axl, visit the Bright Tangerine website.