Deity announced the BP-TRX about a year ago, and it now has landed. The BP-TRX is somewhat of a swiss army knife of the 2.4 GHz systems offering a lot more than just wireless audio.
The new BP-TRX can become different devices. An audio recorder, transmitter and receiver combo, audio recorder, or a timecode box. You can also record audio with timecode if you jam or sync them. Pretty nifty, right?
Unfortunately, the US model won't record while transmitting due to a patent that Zaxcom holds. When you start recording, the transmission will stop. It can also be used as a single-channel wireless receiver with modes to act as a wireless IEM system for directors and producers or as a camera hop. That is a lot of options.
The headphone jack will also be disabled while recording in TX/Recorder mode. It will work before recording to set levels. While this is a bummer for the US market, at least you have the option to use the TX as a full-featured recorder with timecode.
When the TX is set to Recorder, the headphone jack will function during recordings.
BP-TRX Specifications
| | |
| --- | --- |
| Transmission Type | 2.4GHz |
| RF Protection | Encrypted RF Signal |
| Frequency Type | AAFP |
| RF Output Power | 10mw, 25mW, 50mW, 100mW |
| Latency | 19ms |
| Range(distance) | Up to 100m |
| Bitrate/Sampling | 24bit/48KHz |
| Frequency Response | 20 – 20KHz |
| Input Connection | Locking 3.5mm TRS |
| Input Type | Mono, Stereo |
| Input Level | Mic, Line |
| Input Mic Power | 2.5V |
| Input Gain | -12dB to +36dB |
| Limiter | Guard Rail Analog Limiter |
| Low Cut Filter | Off, 20Hz to 200Hz |
| Output Level | Mic, Line, Headphone |
| Output Type | XLR, DSLR, TC Sync |
| Timecode Type | SMTPE |
| Timecode Frame- Rates | 23.976ND, 24ND, 25ND, 29.97ND, 29.97D, 30ND, 30D |
| Antenna Inputs | Internal & External SMA |
| Recording | BWF .wav file |
| Card Type | Micro SD – Up to 128Gb |
| USB update | exFat/Fat16/Fat32 |
| Battery Type | Lithium-Ion Rechargeable Battery |
| Battery Capacity | 2800mAh |
| Display Type | 1.3″ OLED Display |
| Dimensions | 83.75×63.5×18.5mm |
| Weight | 160g |
| Temperature Range | -10°C to +45°C |
Internal Battery
I'm not a fan of non-removable batteries, but Deity addressed this with long run times and fast recharging. The DUO-RX gets approximately 12-hours of runtime and recharges in 70-minutes. You could easily top it off with a portable USB-C battery or leave it plugged in, and it will stay charged all day long. When the BP-TRX is used as a recorder, you will get over 20 hours of operation on a single charge.
BP-TRX Battery Life
12Hrs TX Mode
12Hrs RX Mode
21Hrs REC Only Mode +25Hrs TC Box Mode
Battery Charge Time – 130 Minutes
Separate Menu Structure
Since the BP-TRX has multiple functions, Deity made the menu structure dedicated to the setting you are using. This makes it much less cluttered. For example, no RX settings will appear when using the BP-TRX as a timecode box. Menus are complicated enough, so I appreciate this simplicity a lot.
File Structure
The file structure on the micro SD card is a bit of an issue. Each BP-TRX has its own ID that you can customize. The default name is 12345. Each file uses the BP-TRX name alongside _001 and so on, so it looks like this 12345_001.wav. When you format the card, the file name goes back to _001. This isn't good as files can get mixed up easily if you have several with the same name. Hopefully, Deity can fix this, so the naming and file numbers are continouse and unique after formating.
Timecode Generator
I like the timecode feature a lot. This makes capturing separate audio and syncing a breeze in post, making it a no-brainer for clean dropout-free recordings. You will need a camera that can accept timecode. In this case, you would use two BP-TRX's. One on the camera with the included XLR and BNC connector and one on talent. Now you're sending TC to the camera and recording it as well on the other BP-TRX. This is a nice clean setup that works great. As mentioned, you can also jam the camera with the TC BNC input.
A cool feature is to use two BP-TRX as TX and RX. With a mirrorless camera, It keeps it compact. The included cold shoe can be attached by removing the belt clip and screwing the adapter in. With the Canon R5, I can still use the viewfinder without adjusting my position to accommodate it. This is a big deal as some devices stick out too far and make it impossible to get your eye up to the EVF. I'm talking to you, Rode VideoMic Pro+ 😀
While I like the cold shoe adapter, the included one is generic and loosens easily. I use pliers and lock it down, so I don't have to fiddle with it while shooting. Other options would be to mount a NATO rail and use a clamp with an arm. Rigging is trial and error, but it is great to have options, and the BP-TRX is all about options.
DSLR Mode with Timecode
With both RX and TX set to TC, you hook the 3.5mm cable to the OUTPUT on the TX and the other end into the MIC port on RX and hit JAM on the receiver to initiate TC sync. To record the LTC Timecode audio, set the output on the RX to SYNC: TC/A+/G. Now your set and the camera will record the LTC Timecode to channel one or LEFT channel, and the RIGHT will be the subject recording. Unfortunately, the US model won't record and transmit at the same time. Once you hit record on the camera or the BP-TRX, the transmitted audio will be muted. The LTC Timecode will be recorded for syncing with software.
Now you have two files that need to be merged. Davinci Resolve supports this type of audio recorded timecode, but if you don't use Resolve, you will need to find a different solution. One that I use is Tentacle Sync Studio. It's free and available for both Mac OS and Windows.
The kit includes a splitter with an XLR and BNC on one end and a 3.5mm on the other. With a camera or recorder that is compatible with TC input, this handy cable will send the TC out of the BNC end and audio out of the XLR.
Jam Mode
You can also jam timecode into devices that accept TC jamming via 3.5mm output. One thing to keep in mind with TC jamming, it will drift over time, so it's a good idea to re-jam all the recorders after a few hours of service. Deity states the BP-TRX will drift one frame in 24 hours. Not all cameras are created equal when it comes to holding TC, so it's a good idea to test the camera, so you get the best results. When using the continouse TC feature on the camera, you will have perfect sync all day long. This feature is very cool with the BP-TRX. I like how versatile it is, plus it's relatively small and easy to mount.
TC Box Mode
Use a dedicated TC device for slates, cameras, or whatever else needs a constant time or just a good ole Jam.
2.4 GHz
Wireless systems using the 2.4 GHz spectrum have their pluses and minuses. The range will be less than UHF and more susceptible to interference due to WiFi traffic. With so many consumer products using the band, you could run into interference. This is where the recorder with timecode comes in handy.
Kits
Deity put a few kits together to make it easy, plus you can get a single BP-TRX and expand as you go.
Deluxe Kit includes two BP-TRX and one DUO-RX Reciever
Timecode Kit Includes two BP-TRX
Single BP-TRX
Includes Two W.Lav Pro's
It's nice that Deity included two W.Lav Pro microphones with the Deluxe Kit. These versions are not the Microdot type, so you cant swap the connectors if you want to use them with systems that don't use the 3.5mm input. Unfortunately, I had an issue with one of them as it was defective. The sensitivity was really low and I thought it wasn't actually a W.Lav Pro but a lesser version. After I swapped it out it worked as it should.
You can also use other brand lavs with the system. My personal choice is the Sanken COS 11d. Yes, it's pricey at $379.00, but they are a professional industry standard and deliver the best from your systems. I've had mine for several years, so I feel it's a good investment.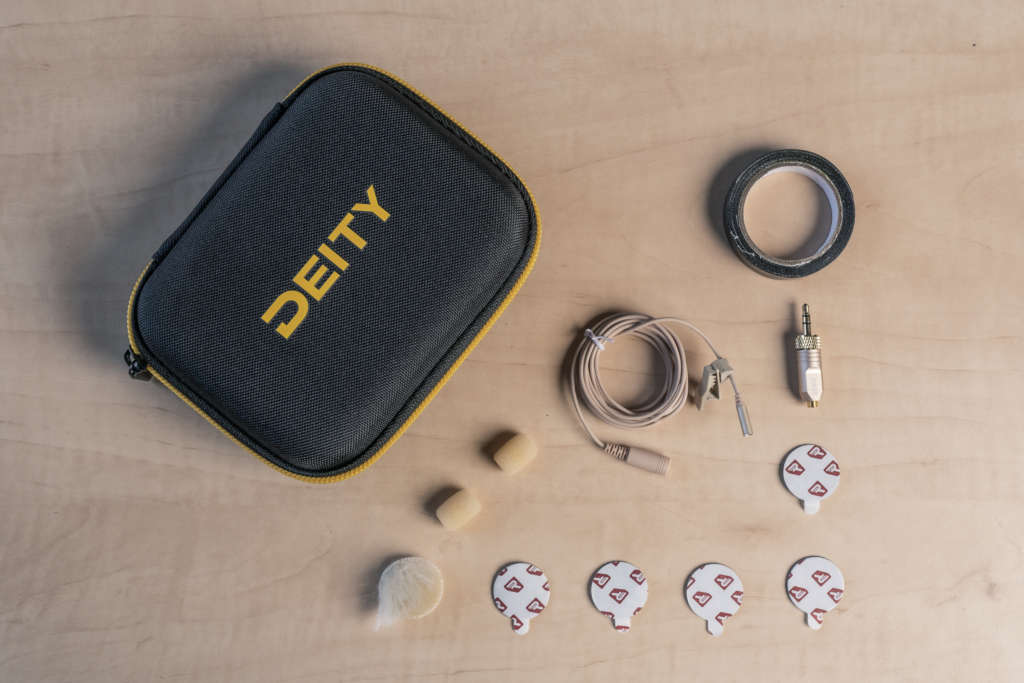 Deity has a professional line of lav mics as well alongside the W.Lav Pro is the super tiny W.Lav Micro. Both models retail for $100 or $130/$139 with your choice of Microdot. Not bad for a good quality lav mic with impressive specifications like IP57 Waterproof and the Micro DOT design that lets you change the connector from 3.5mm Sony and Sennheiser versions, TA5, 4 pin Lemo, and LEMO 00 Series 3-pin. Deity likes to add versatility to their products if you haven't noticed.
DUO-RX Reciever
The main dual receiver is the same as the former model. I do wish it was smaller as it's a little big for mirrorless cameras. It supports two channels, and Deity has stated that the size helps keep the signal cleaner to prevent interference. The good news is it's not heavy, just large.
| | |
| --- | --- |
| DUO-RX Reciever Specifications | |
| Transmission Type | 2.4GHz |
| Modulation Type | Proprietary Protocol |
| RF Protection | Encrypted RF Signal |
| Frequency Type | AAFP |
| RF Output Power | 10mw, 25mW, 50mW, 100mW |
| Latency | 19ms |
| Bitrate/Sampling | 24bit/48KHz |
| Frequency Response | 50 – 20KHz |
| Output Type | XLR, DSLR |
| Antenna Inputs | Internal & External SMA |
| Output Connection | 2x Locking 3.5mm TRS |
| Output Level | Mic |
| USB update | exFat/Fat16/Fat32 |
| Battery Type | Lithium-Ion Rechargeable Battery |
| Battery Capacity | 2200mAh |
| Battery Life | ~12 Hrs |
| Battery Charge Time | 70 Minutes |
| Display Type | 1.3″ OLED Display |
| Dimensions | 87.4 x 113 x 33.5 mm |
| Weight | 248g |
| Temperature Range | -10°C to +45°C |
| | |
On the back are 1/4 20″ and 3/8″ taps and include a hook and loop strap for mounting on a tripod leg or anything that it can wrap around.
The DUO-RX uses a rigid plastic antenna instead of the flexible one that is on the transmitter. I'm not a fan of these, but when the RX is mounted flat, the antenna can be positioned vertically, which could help with performance. If it didn't affect the performance, I would swap it out for the flexible type.
Competition
There are many offerings in the 2.4 GHz space, which is a good thing as they are different products. If you want wireless audio without TC generating and sync features, then a smaller RODE GO, or Hollyland Lark might be a good choice. These products are all affordable and open up the world of wireless audio to the masses. Just know that you need to monitor your audio as the 2.4 GHz systems are prone to interference in congested areas where WiFi and mobile devices have to share the space.
Conclusions
With so many 2.4 GHz wireless audio systems on the market, you have to offer something that will differentiate you from the pack. I think Deity has done this with the versatility of the new BP-TRX.
Plus you can use it with the existing HD-TX XLR unit with recorder capabilities and DUO-RX. If you already have the Deity Connect Interview Kit you can build off of it. It provides a lot of flexibility, and I like that a lot. When you don't need to record two subjects, the BP-TRX in receiver mode makes the camera nice and compact. The larger DUO-RX is a bit of a beast for those smaller cameras.
I like how easy they are to set up. When you are in different operation modes, the separate menu systems are a great idea—no more scrolling through settings that you don't need.
You get all these features for a competitive price. The single BP-TRX retails for $249. Timecode Kit (2pc kit) retails for $479, and Deity Connect Deluxe Kit $699. I think you get a lot for the money, and versatility is the name of the game for the BP-TRX. And, as always. Wear your headphones when using wireless audio systems!
Like what we do and want to support Newsshooter? Consider becoming a Patreon supporter and help us to continue being the best source of news and reviews for professional tools for the independent filmmaker.