Insta360 has released a new firmware update for the Insta360 ONE R camera which brings image quality improvements, new shooting modes & frame rates.
The update is available now through the ONE R firmware, Insta360 app (iOS and Android) and Studio desktop software (Windows and Mac).
Horizon Lock for 4K Mod and 1-Inch Mod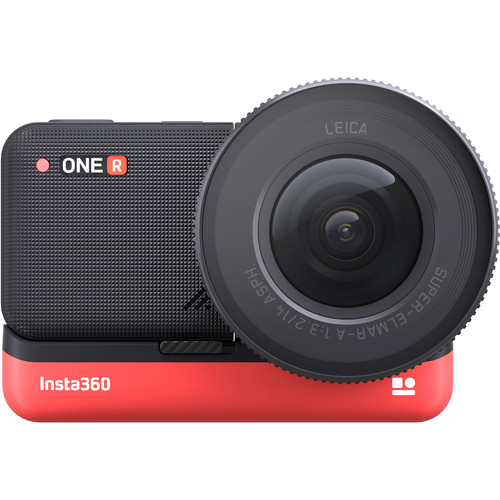 For next-level stabilization, horizon leveling is now available for the 4K Mod and 1-Inch Mod. Particularly useful for action scenes or whenever it's difficult to hold the camera steady, Horizon Lock keeps the footage upright and level when shooting in Pro video mode (FlowState Stabilization) at 30fps.
Two options are planned with the 45-degree mode coming later.
360° Horizon Lock for horizon leveling of full rotations (exported with a narrow field of view)
45° Horizon Lock for moderate shakes (exported with a wider field of view). 

Loop Recording
Similar to how a dash cam works, this function allows for continuous video recording, and will delete the first clips once the card is full. There is a maximum of 30 minutes per clip.
Creators can also use loop recording to shoot continuously while they wait for a key moment to happen. Only the preceding minutes of footage will be saved, freeing up vital space on the memory card.
New 4K50fps
When using the 4K Mod and 1-Inch Mod, you can now choose 4K 50fps, when shooting in Pro video mode.
Updated Image Improvements
The Vivid color profile for the 1-Inch Mod has also received a complete makeover to help creators get better, more vibrant colors straight out of the camera. 
In addition, four different image sharpness options are now available for all ONE R mods. Sharpness can be adjusted in-camera and offers creators greater flexibility to adjust the image quality based on personal preference, environment and other factors.
AquaVision 2.0 corrects underwater footage and is available for all ONE R mods now, including the 360 Mod.
New Editing Features & Improvements
This update also introduces two new Shot Lab templates, adding to the continually growing list of smart editing templates in the Insta360 app. "Horizon Flip" automatically mirrors your surroundings in the sky for a futuristic effect. Meanwhile, "Overtaker" is great for motorcyclists, overlaying onto the video the number of cars you pass by using a video-game-esque style.
Car MultiView is another fun editing feature now available that displays a split screen of the road ahead and the car's interior. With the ONE R 360 Mod mounted to the windshield or the dash, the camera captures a complete, wide-angle view in both directions.
General Updates
A number of general performance improvements have also been added including:
TimeShift videos are now automatically sped up to 6x before being saved, so they take up far less memory on the SD card.
Audio recorded with external mics with ONE R has been improved.
A new Roadie Remote accessory is now available, a wireless Bluetooth remote that attaches to the car steering wheel for safe control of the camera while driving.
The Insta360 ONE R starts at $299 USD for 4K edition with different mods available.