Blackmagic Design DaVinci Resolve 17 is a big update packed with a lot of new features plus a brand new Speed Editor panel that will be included free with new DaVinci Resolve 17 licenses for a limited time. The Speed Editor retails for $295. The new version is still free and the Studio version is $295. I would buy a new studio 17 license and get the free Speed Editor as that is an insanely good deal. Never hurts to have an extra license for a second computer.
Below is the full video with all the details plus some demos of the new features in action.
Beta 1 Update
Blackmagic Design has already updated to 17.1 three days after the initial release.
DaVinci Resolve 17.1 Beta 1 adds universal app support for M1 powered Macs.
DaVinci Resolve 17.1 requires a database upgrade from DaVinci Resolve 16.2.7 and previous versions. BMD strongly recommends you back up your existing database (both DiskDB and PostgreSQL) before performing an upgrade. 
Key Features
BMD states DaVinci Resolve 17.1 Beta 1 offers universal app support for M1 powered Macs to provide better performance on small laptops. Plus the unified memory architecture on M1 enables DaVinci Resolve 17.1 to leverage the power of CPU and GPU processing more effectively, avoiding the need for PCI Express transfers. Significantly, the combination of M1, Metal processing, and DaVinci Resolve 17.1 offers up to 5 times better performance when compared to previous generation computers. DaVinci Resolve 17.1 is also compatible with macOS Big Sur, and is initially only available for Mac.

The public beta of DaVinci Resolve 17.1 for M1 powered Macs is available for download now from the Blackmagic Design web site.
"We're excited to support the new Macs powered by M1. We think it's important that DaVinci Resolve customers can purchase these new Macs and run native software to get the best performance possible. The DaVinci Resolve engineering team has done such a great job and it's exciting to be part of this technology revolution."

Grant Petty
Blackmagic Design CEO
Cut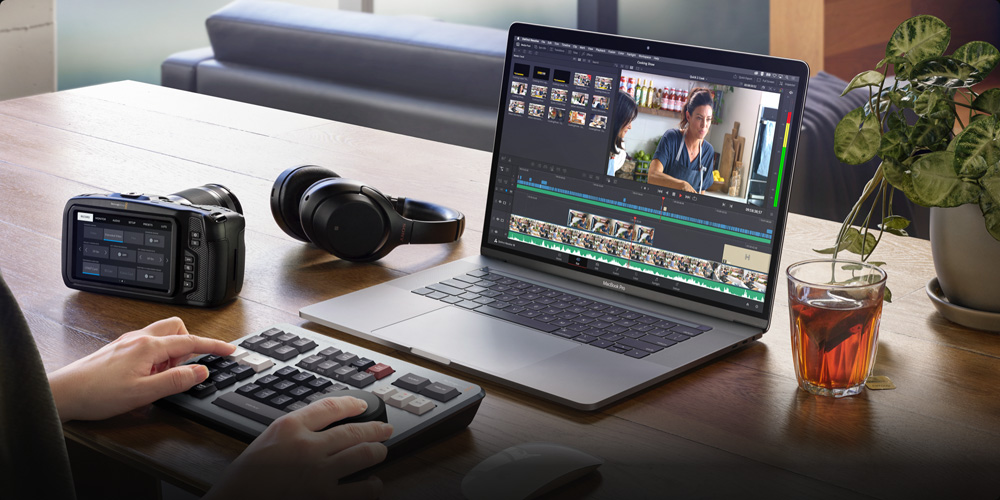 DaVinci Resolve 17 updates the cut page with smarter new features designed to help you finish quick turn around projects faster. The new metadata slate view with bin dividers is a new way to visually view, sort, and find shots quickly. Audio trim mode displays larger waveforms for more precise trimming. Smart reframing automatically re-frames images so you can export projects in vertical, square, or other aspect ratios without having to manually reposition every shot. A new icon view in the library lets you preview effects, transitions, and titles. You can import and edit projects from ATEM Mini Pro ISO, there's a new clip inspector, fast timeline switching and more.
Metadata slate view with bin dividers makes it easy to sort and find clips based on scene, shot, camera and more. You get cards with thumbnail and metadata, which is determined by sort order. When used with the source tape, it's the fastest way to jump in and out of scenes or groups of shots.
Now you can edit in 16:9 HD or Ultra HD and quickly create square or vertical versions for posting to Instagram and other apps. The DaVinci Neural Engine automatically identifies faces and repositions them inside the new frame so you don't have to do it manually. You can even fine-tune the results.
While the viewer tool strip is great for quick adjustments, the inspector lets you access virtually all audio and video settings, metadata, RAW image controls, and more! You can quickly switch between groups of settings using the tabs at the top. Settings can be animated using the diamond keyframe buttons!
Edit
New proxy workflows dramatically improve performance and make it easy to move projects between systems. You can now sync clips on the timeline and convert them to a multicam group, make source side adjustments before editing a clip into a project, share individual timelines and bins, remove 3:2 pulldown in realtime, and more. The edit page also supports mattes and keying for composites, motion blur on certain transitions, and the ability to render effects heavy portions of the timeline to a new file. The DaVinci Neural Engine also gives you scene cut detection, de-interlacing and smart reframing.
Color
The color page lets you manipulate color in creative and artistic ways that dramatically affect the mood of a scene, making it an incredibly powerful part of the storytelling process. You get hundreds of artistic tools in an easy to learn node-based interface that makes experimenting with color fast and exciting! With support for a huge range of formats, including wide color gamut and HDR images, along with DaVinci's 32‑bit image processing for high quality, professional results.
The primary color wheels let you adjust balance and brightness in overlapping tonal ranges called lift, gamma and gain (also known as shadows, midtones and highlights). The offset wheel adjusts the whole image.
Targeted Gradingwith Magic Mask
Magic mask uses the DaVinci Neural Engine to automatically create masks for an entire person or specific features such as face or arms. You get matte finesse tools, the ability to add and remove strokes, and automatic tracking.
Fairlight
Fairlight new features include tools and core improvements that make it faster for audio post-production. A new high-performance audio engine, Fairlight Audio Core, along with the revolutionary new FlexBus busing architecture gives you support for over 2,000 tracks. You can now reverse audio clips, analyze loudness, view and navigate transients, preview video while editing, move automation, export multi-channel files, and more.
Speed Editor Panel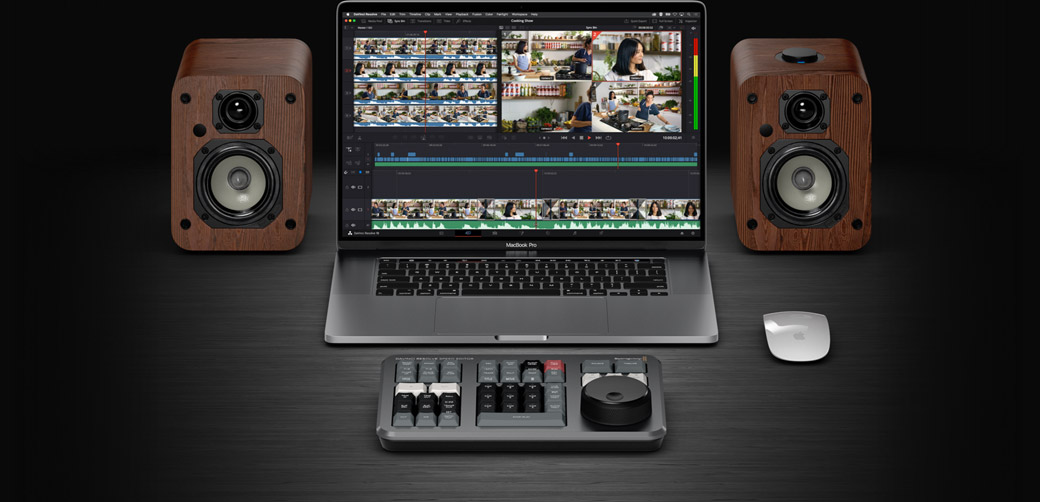 The DaVinci Resolve Speed Editor features a machined metal search dial in a design that includes only the specific keys needed for editing. It also has Bluetooth with an internal battery for connecting wirelessly, or you can connect via USB-C. That means it's more portable than a full-sized keyboard.
Minimum system requirements for macOS
macOS 10.14.6 Mojave
16 GB of system memory. 32 GB when using Fusion
Blackmagic Design Desktop Video version 10.4.1 or later
Integrated GPU or discrete GPU with at least 2GB of VRAM.
GPU which supports Metal or OpenCL 1.2.
Minimum system requirements for Windows
Windows 10 Creators Update.
16 GB of system memory. 32 GB when using Fusion
Blackmagic Design Desktop Video 10.4.1 or later
Integrated GPU or discrete GPU with at least 2GB of VRAM
GPU which supports OpenCL 1.2 or CUDA 11
NVIDIA/AMD/Intel GPU Driver version – As required by your GPU
A minimum NVIDIA driver version of 451.82 is recommended.
Minimum system requirements for Linux
CentOS 7.3
32 GB of system memory
Blackmagic Design Desktop Video 10.4.1 or later
Discrete GPU with at least 2GB of VRAM
GPU which supports OpenCL 1.2 or CUDA 11
NVIDIA/AMD Driver version – As required by your GPU
A minimum NVIDIA driver version of 450.51.06 is recommended.
These are only a few of the new features in Davinci Resolve 17. It truly is a substantial update. Head over to the new dedicated website for all the new features. There are a lot!
Like what we do and want to support Newsshooter? Consider becoming a Patreon supporter and help us to continue being the best source of news and reviews for professional tools for the independent filmmaker.