Insta360 has announced the new ONE X2 camera, the successor to the original ONE X.
It looks similar to the original ONE X but now has a full colour screen on the front whereas the original only had a mono status screen.
Improved hardware all around
The Insta360 ONE X2 doesn't make any massive jumps in resolution capabilities, keeping a maximum 5.7K in 360 but makes a few key hardware changes.
The battery now has a higher capacity at 1630mAh, compared to only 1050mAh of the original for a claimed 80 minutes of shooting time.
The front of the unit now houses a colour touchscreen where you can preview your 360-degree footage, typically this required viewing on a paired smartphone or tablet.
The ONE X2 is now IPX8 rated, submersible to 10m (33ft) without a case.
It also now uses a USB Type-C connection, rather than the microUSB.
Multiple Shooting Modes
Insta360 ONE X2 features four main shooting modes: 360, Steady Cam, InstaPano and MultiView.
360 mode captures up to 5.7K with both lenses, with the ability to publish 360-degree videos, or traditional 16:9 footage with the freedom to recompose the shot in post.
Steady Cam mode records at a maximum of 50fps at 2560×1440 using a single camera with an ultra-wide view, stabilsed using Insta360's FlowState stabilization.
InstaPano is a brand-new photo mode for capturing panoramas. They are taken instantly and don't require the user to move the camera to take multiple exposures for stitching.
MultiView is designed for vlogging, displaying two angles at once with different fields of view with app face tracking.
Shot Lab
Shot Lab hosts a continuously updated collection of one-tap templates using 360 editing techniques.
Templates include Dolly Zoom, Stop Motion, Clone Trail and Shadow Clone. Ghost Town takes your 360 timelapse and removes people from it, outputting an unobstructed photo.
Track any subject.
Select your target with a tap or voice command while shooting. Then head to the app or Studio, where the upgraded Deep Track algorithm can track humans, animals and other moving objects, keeping your target center-frame, no matter the obstacle.
PureShot mode for low light
PureShot mode enhances the dynamic range of your low-light photos, while reducing noise and preserving detail.
AquaVision
AquaVision auto-balances out colors, resulting in underwater content that looks like it was shot in daylight without any external filters.
Bullet Time Cord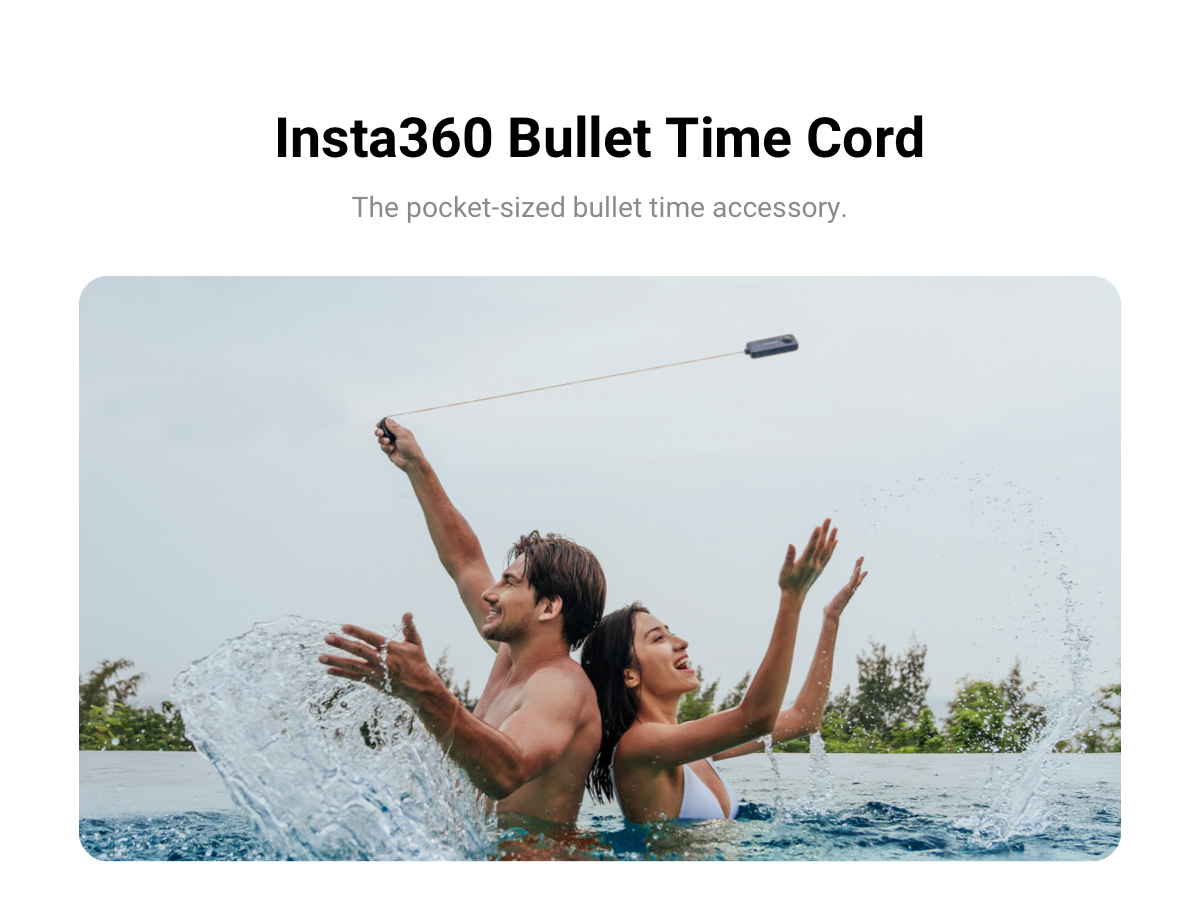 Almost like a yo-yo, the new Bullet Time Cord mounts to the ONE X2 and has a retractable cord that you use to swing the camera around. Using a cord makes it much more compact than the typical selfie sticks.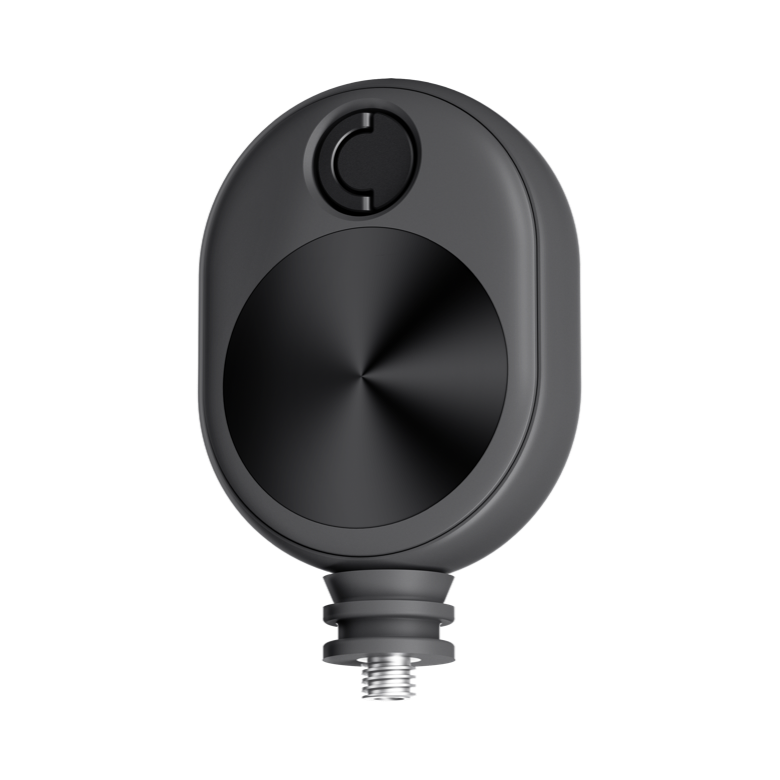 360 webcam and live streaming.
Like most cameras, you can now stream directly to streaming platforms. One neat feature with the ONE X2 is the ability to stream a split-screen view using both cameras.
Pricing & Availability
Insta360 ONE X2 is available to order today via Insta360.com and authorised dealers. The ONE X2 retails for $429.99 USD.
A selection of new accessories are also available including Lens Guards and a Bullet Time Cord for capturing slow-mo angles.
Technical Specifications
Aperture
F2.0
Weight
149g (5.25oz)
Dimensions (W x H x D)
4.62 x 11.30 x 2.98cm (1.82 x 4.45 x 1.17in)
Video Modes
Standard, HDR, Timelapse, TimeShift, Bullet Time, Steady Cam
Photo Modes
Standard, HDR, Burst, Interval, Night Shot, PureShot, InstaPano
Video Resolution
360: [email protected], 25fps, 24fps [email protected], 30fps [email protected]
Wide Angle (Steady Cam Mode): 2560×[email protected], 30fps 1920×[email protected], 30fps 1920×[email protected], 30fps
Photo Resolution
360: 6080×3040 (2:1) Pano: 4320×1440 (3:1)
Video Format
Steady Cam: MP4 360: INSV
Photo Format
JPG (can be exported via mobile app or desktop Studio), RAW (dng, must be edited on desktop)
Audio
Stereo audio with optional wind noise reduction 360 audio (ambisonic)
Battery Capacity
1630mAh
35mm Equivalent Focal Length
7.2mm
ISO
Auto, 100-3200
White Balance
Auto, 2700K, 4000K, 5000K, 6500K, 7500K
Exposure Value
±4EV
Photo Exposure Modes
Auto, Manual (Shutter 1/8000s-120s, ISO 100-3200), Shutter Priority (1/8000s-1s), ISO Priority (100-3200)
Video Exposure Modes
Auto, Manual (Shutter 1/8000-1/30, ISO 100-3200)
Color Profiles
Vivid, standard, LOG
Video Coding
H.264, H.265
Max. Video Bitrate
100Mbps
Gyroscope
6-axis gyroscope
Run Time
[email protected] – 80 minutes
Compatible Devices
iOS: A11 or above chip iPhone SE, iPhone 11/11 Pro/11 Pro Max, iPhone XS/XS Max, iPhone XR, iPhone X, iPhone 8/8 Plus Android: Kirin 980 or above (Huawei Mate 20, P30 and above) Qualcomm Snapdragon 845 (Samsung Galaxy S9, Xiaomi Mi 8 and above) Exynos 9810 or above (Samsung S9, S9+, Note9 and above) *Devices that do not meet the above requirements can still use the app to control ONE X2, however, performance of some processor-intensive, AI-powered features may be sub-optimal.