Blackmagic Design has announced the new ATEM Mini Pro ISO that adds the ability to record the clean feeds of the four inputs as well as the program output at the same time to the recently announced ATEM Mini Pro.
The ATEM Mini Pro ISO is identical to the ATEM Mini Pro aside from this.

ISO Recording
The four HDMI ISO inputs are recorded as H.264 .mp4 files at up to 70Mb/s with AAC audio.
The Program out is also recorded as H.264 .mp4 resulting in five files.
Media pool images used are also saved with the video files. The video files include metadata tags such as synced timecode and camera numbers. Imagine re-editing your show with new color grades, effects and graphics! Even the audio sources are all recorded so you can professionally remix your audio.
Edit Live Production in DaVinci Resolve
The ATEM Mini Pro ISO model can also save a DaVinci Resolve project file (.drp), so with a single click, you can open your live production as a video edit.
All cuts, dissolves and media pool graphics will be loaded. This means you can fine tune edit points or even completely replace shots.
The DaVinci Resolve Sync Bin lets you select new shots via a multiview so it's very easy to use. You can even relink to Blackmagic RAW camera files for adding professional color correction and finishing.
A sample demonstration project is available to download from Blackmagic Design.
The ATEM Mini Pro ISO retails for $895 USD. This is $300 more than the standard ATEM Mini Pro model.
ATEM Streaming Bridge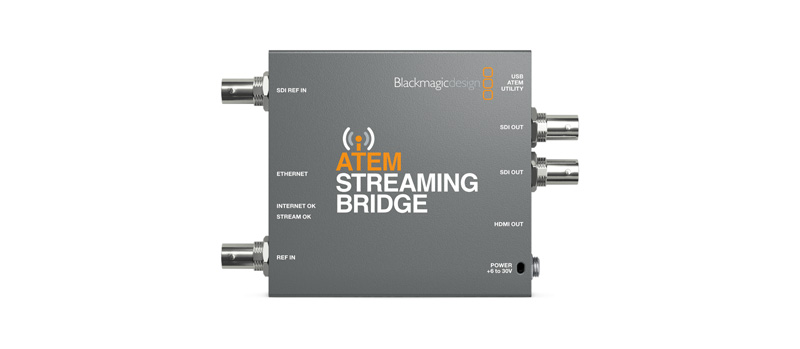 The ATEM Streaming Bridge is a video converter that lets you receive a H.264 stream from any ATEM Mini Pro and convert it back to SDI and HDMI video.
This means you can send video to remote locations around your local Ethernet network, or via the internet globally.
Blackmagic Design claims that they used advanced H.264 codecs for higher quality at very low data rates.
The unit has two SDI outputs as well as one HDMI output which can be used simultaneously.
Setup is easy as the ATEM software utility can create setup files that you can email to remote ATEM Mini Pro studios.
The ATEM Streaming Bridge retails for $245 USD.