RED has announced the new Production Module for DSMC2 cameras which will be available in V-mount or AB Gold-mount.
The production module looks to be a nice offering above the Base & I/O Expander modules, with more SDI outputs, proper XLR audio & more.
Constructed from lightweight and durable aluminum alloy, and is powered via a V-Lock battery or DC in. The module will also be available in gold-mount some time in 2019.
The unit also provides a number of auxiliary power outputs to power accessories.
Two front-facing 3-Pin Fischer R/S ports support Remote Start/Stop functionality, and provide 24V power out up to a combined 2.5 Amps.
A front-facing 2-Pin 0B LEMO AUX PWR port provides power out up to 3.0 Amps.
A 2-Pin P-Tap connector on the top provides power out up to 3.0 Amps.
A rear-facing USB 2.0 port with support for fast charging offers 5V at 1.5 Amps for powering small mobile devices.
On the audio front, two XLR mic inputs feature a 3-position selector switch to designate the incoming audio signal type: Balanced Line Level, Balanced Mic Level, and Balanced Mic with +48V phantom power. It also has a 3.5mm headphone jack for monitoring the audio.
On top of the unit, there is a switch which sets the BRAIN to automatically boot when power is provided via the DC IN connector on the module. A nice feature when the camera is mounted remotely or out of reach.
CONNECTORS
2x 3G-SDI outputs (75 Ω BNC), 60 Hz max frame rate
Monitor output (75 Ω BNC), 60 Hz max frame rate
2x 24V Aux Power / Remote Start/Stop Outputs (3-Pin Fischer), 2.5A Shared
Aux Power Output (2-Pin 0B LEMO), 3.0A
Aux Power Output (2-Pin P-Tap), 3.0A
DC IN (6-Pin 1B LEMO socket)
2x Balanced Audio inputs (3-Pin, full size XLR female)
Stereo Headphone output (3.5 mm jack)
Timecode input/output (5-Pin 0B LEMO)
Genlock input (75 Ω BNC)
Gigabit Ethernet input/output (9-Pin 0B LEMO)
CTRL (Tally OUT / RS-232 Rx and Tx) (4-Pin 00 LEMO)
USB Power output (Type A socket), 1.5A
AUTO BOOT ON POWER
2-position slider switch
AUDIO
2 channel, uncompressed, 24-bit, 48 KHz
Input Formats: Balanced Line, Balanced Mic (w/o Phantom Power), Balanced Mic (w/ 48 V Phantom Power)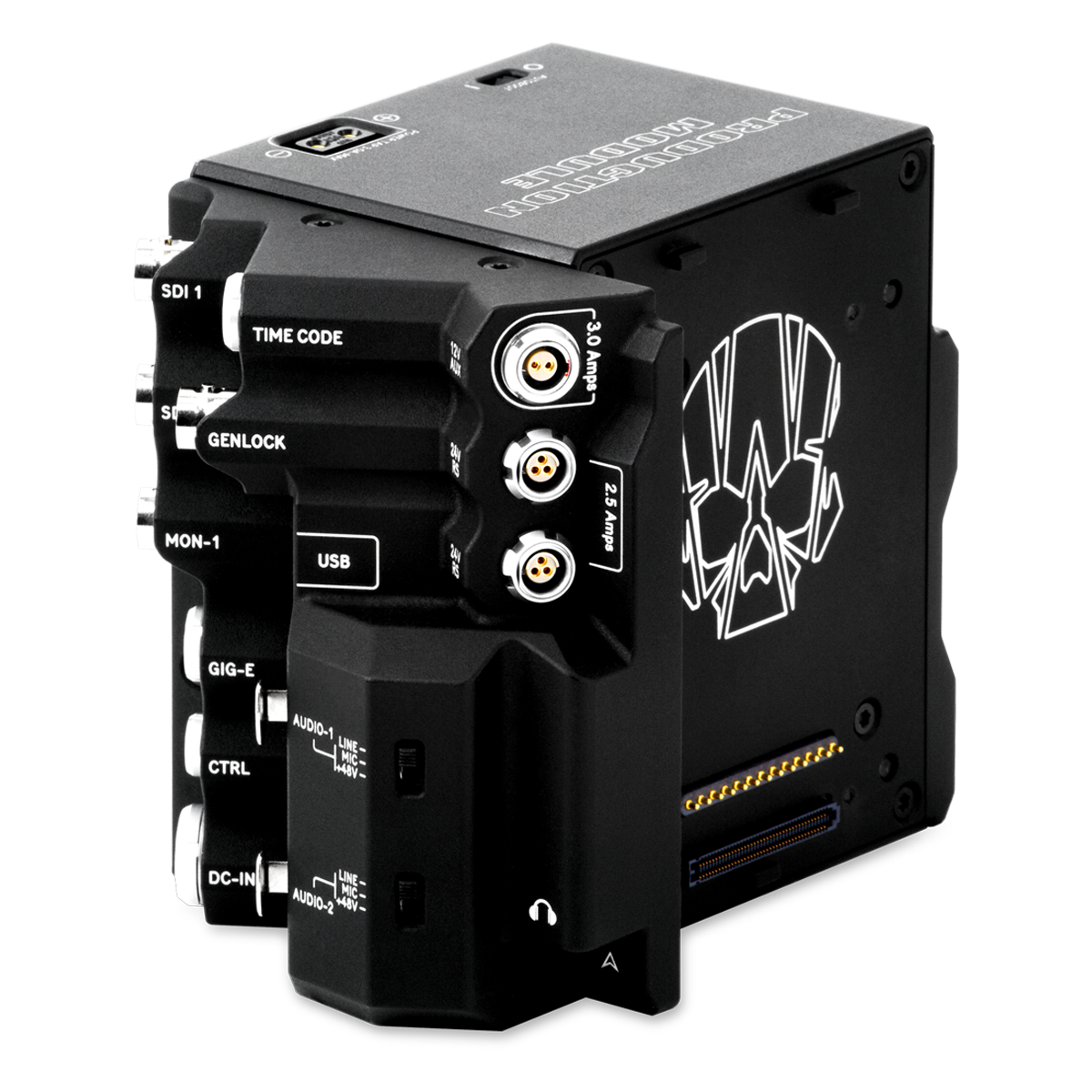 Pricing & Availability
The unit will begin shipping mid-January with the AB Gold-mount version available later in 2019. The module costs $4,950 USD and is also available in a Production Kit with a new top handle & top plate.