Camera bags are a personal item. They have to fit you and the gear you use. Sounds easy right? But It's not easy to find the "right" one. Especially if you shop online. A few years ago I ordered a bag from Porta Brace for a C300. I got the size all wrong. This thing was massive! I could practically sit inside it. I didn't do a very good job understanding the dimensions on that one. Never used it.
For stills cameras I like a bag I will carry with me all the time. Just like the fairy tale. You know the one with the bears? Not to big, but not to small. Just right.
Us hybrid guys have it tough. We also like to shoot video with our small cameras. This means more gear like mics, cables, maybe a small monitor & oh don't forget that HDMI cable and batteries for that monitor too. This is where my current bag stopped working for me. It was so packed the flap just sat on top of the bag. It's definitely time for an upgrade.
Some of my favorite bags are from Think Tank Photo. From roller to shoulder. The bags are very well built and just work. They've been making camera and accessory bags for a long time and the quality and service is very good. I also use Tenba bags. I don't have any shoulder bags from them yet, but for video cameras they're great and also well built.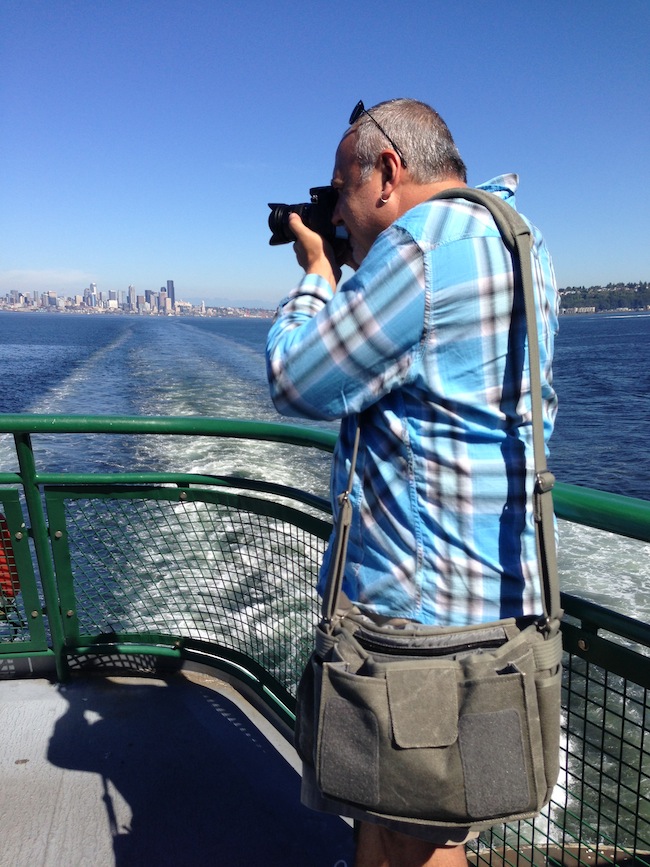 I've been using a Think Tank Photo Retrospective 7 ($162.) for many years now. I bought it for a GH3 then GH4 plus 3 lenses. The Trifecta of micro four thirds glass. Lumix 35-100, 12-35 and 7-14.
I can easily fit those plus a body and a few accessories in the bag plus a Rode VideoMic Pro. It's tight but doable. However when you start putting small cables, mic for iPhone and batteries plus a filter pouch or two inside things get a little messy and tight.
These days i'm shooting with a Sony a6500 and before that a Sony a7rii. Yes the cameras are compact. Especially the a6500, but not as much as the GH3, GH4 kit was. The lenses are bigger if you use full frame Sony, and I do. I have a combination of Sony FE (Full Frame) and E (APS-C) so, having a little more room in the bag can be helpful for bigger lenses like the Sony 90mm macro that I really like and hate leaving home without it. With the Retrospective 7 I have the 90mm macro in a padded lens case that's attached to the shoulder strap. No more room in the bag!
I also like having a cage on my camera these days. For the a6500 I use a SmallRig one that's designed for the a6500. I like it a lot. It fits great and isn't to bulky. Cages make adding all those video essential bits much easier and also more secure, but that means i'll probably take more gear with me too like arms and mounts.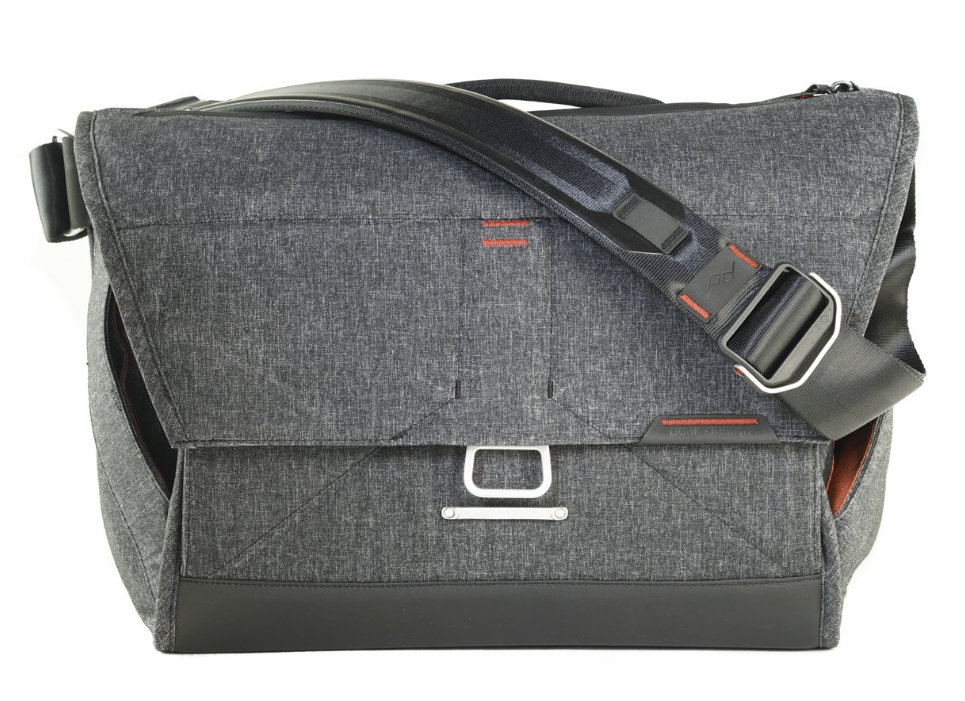 On my quest for the right camera bag I decided to give Peak Design a try. These folks are marketing wizards. Watch a video about a product they make and you walk away thinking "how could I live without that" Yep. I ordered The Everyday Messenger ($220.00) looks like a nice bag and when I say "looks" I mean it. The design is very pleasing to the eye. The front magnetic locking system works great. The bags walls are stiff on the bag and keeps it looking sharp but maybe to a fault. The main compartment is similar in space compared to the Retrospective 7. This had me a little worried.
The dividers have a cool folding feature so you can stack lenses by folding them over the lens and place another on top of it. I like the foldable dividers design, but I don't like the overall stiffness of the bag that much. The front compartment holds a lot, but it's not big enough for me. My Rode VideoMic Pro was a little tight in it with the other accessories I need to carry. It didn't fit well inside the main compartment since it was full of lenses and just felt in the way. I feel this bag was designed more for just a photo kit. I think I just purchased a man purse that didn't solve any of my problems, but hey. I sure look good.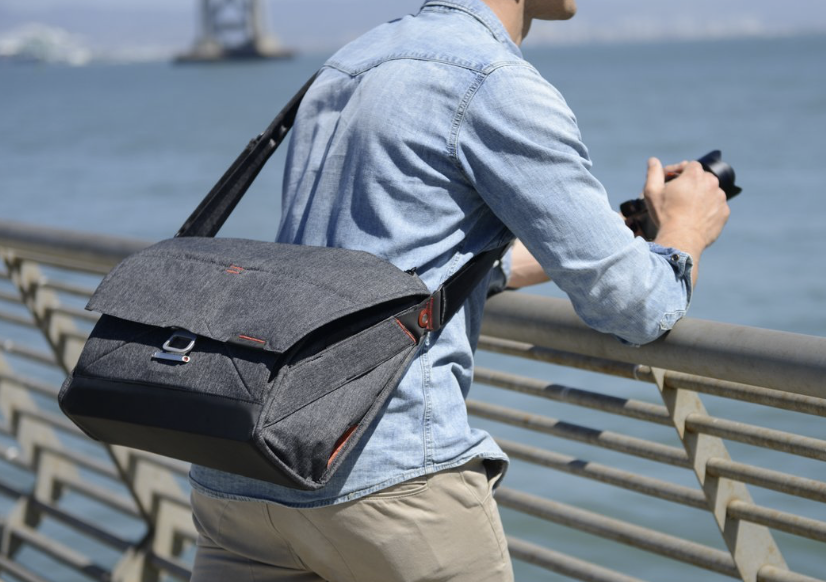 Messengers bags are popular these days. They can be more secure since the bag isn't just slung on the shoulder. I found wearing The Everyday Messenger bag a bit of a pain. I don't really like having the strap across my chest. I wear reading glasses and tend to put them on the top button or in the breast pocket of my shirt. Anywhere else and they get crushed, and that's exactly what happens to my spectacles unfortunately.
For casual days it's fine, but I take my camera with me everyday. If I wear it as a shoulder bag it slides off easily. I was always pulling it up or it would slide off. The strap has no anti-slip on it so that's why it slides freely. As a messenger bag this works great because you can swing it forward fast.
Now I know what your thinking. Erik. It's a messenger bag. You're using it wrong. Well yes and no. I can use my Retrospective or other shoulder bags both ways without issue. The quest for the right bag continues…
So maybe I should go back to a brand I like and have had a good experience with. Let's try out another larger Retrospective. The 30. It works great in both positions as does most shoulder bags I've used. I suppose if I road a bike a lot with my gear then a messenger or backpack would be better.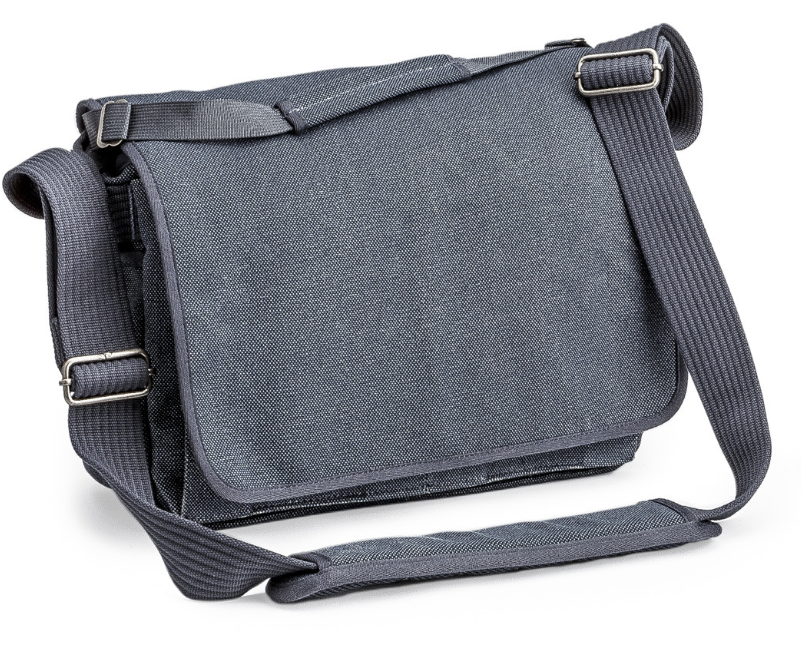 The Retrospective 30 ($194) is basically the Retrospective 7 but 2.5 inches wider and approximately 1 inch wider and taller. This is important to know because if you think the bag's naming convention is based on next size up it isn't. This time I was paying more attention to the details.
Retrospective 7 Dimensions
Internal: 12.5" W x 8.8" H x 5" D (31.8 × 22.4 × 12.7 cm)
Exterior: 13.5" W x 9.5" H x 7" D (34.3 × 24.1 × 17.8 cm)
Laptop compartment: 11.8" W x 8.2" H x 0.7" D (30 × 20.8 × 1.8 cm)
Weight: 2-3 lbs (0.9-1.4 kg) With all accessories
Retrospective 30 Dimensions
Internal  15" W x 9.5" H x 6" D (38 x 24 x 15.2 cm)
Exterior  16" W x 10.5" H x 7" D (40.6 x 26.7 x 17.8 cm)
Front Pocket (fit up to 10″ tablet) 12.6" W x 7.9" H x 0.6" D (32 x 20 x 1.5 cm)
Weight: 3.2 lbs (1.5 kg) With all accessories
The Retrospective 20 is the bigger version of the 10. Yes it's confusing. I personally prefer the wider more rectangular shape of the Retrospective 7 and 30.
I like this much better for day to day carrying of a hybrid camera and some audio gear too. It's just a little bigger but that "little" bit sure makes a "big" difference. I also decided to get the Blue Slate color. My favorite is still Pinestone. Not sure I made the right call on that one. At first I wasn't to sure but it's growing on me. I'm done with black bags. These Retrospective shoulder bags have a really nice look to them. Reminds me of an old pair of comfortable jeans. A little worn in and comfy.
Now my camera kit has a little more room and I feel I can carry just enough for both video and stills. I do think if I bought an even bigger bag it would be to heavy to carry on an adventure. I wish it had those cool foldable dividers but I go old school and just put an extra divider on top of a lens. Not fancy but it works. The bag is well built and the Retrospective 7 has seen a lot of travel time and it's still in excellent condition. These bags are built to last.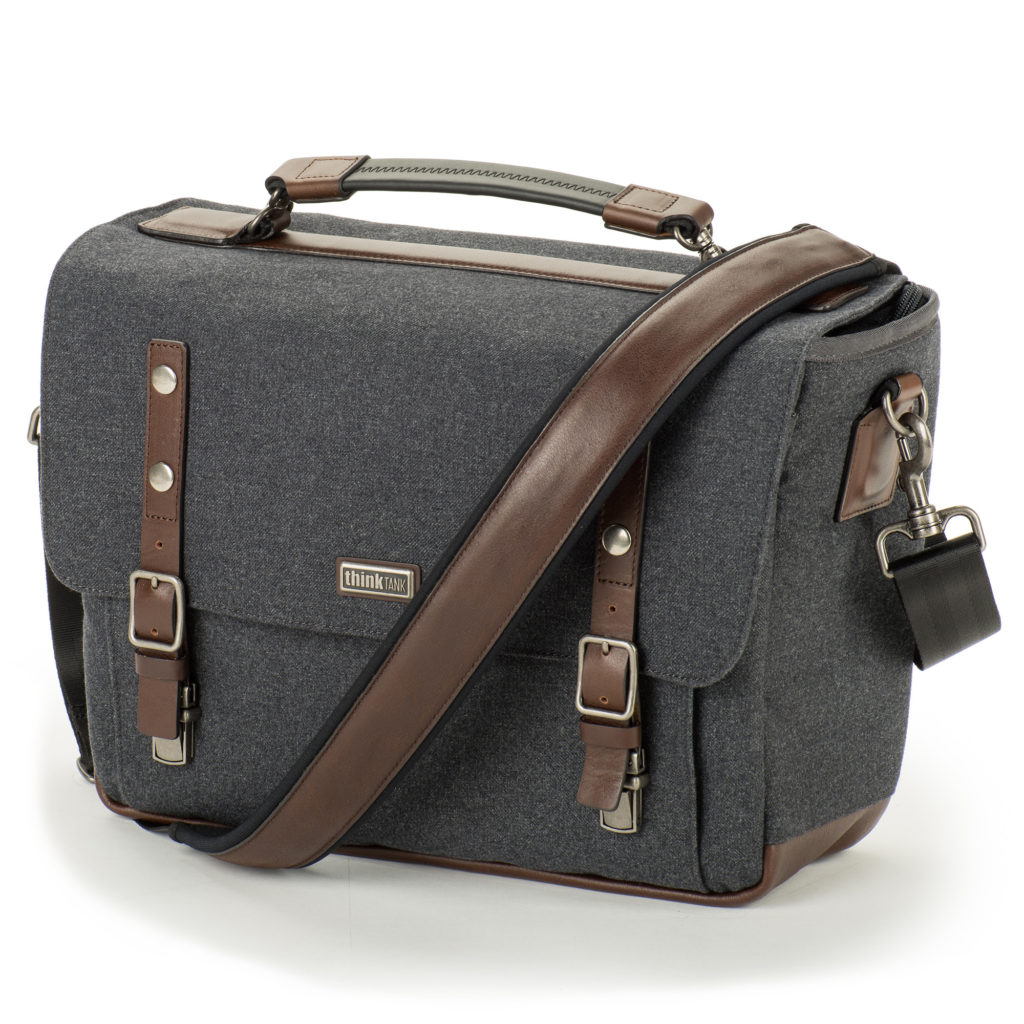 Something new just landed from Think Tank Photo. If you like a more fancy bag with leather and brass features the new Signature Series was just released. For size comparison the Signature 13 ($279) is close to the same size as the Retrospective 30 while the Signature 10 ($249) is close to the Retrospective 7. Personally I would go for the larger. See? I'm learning.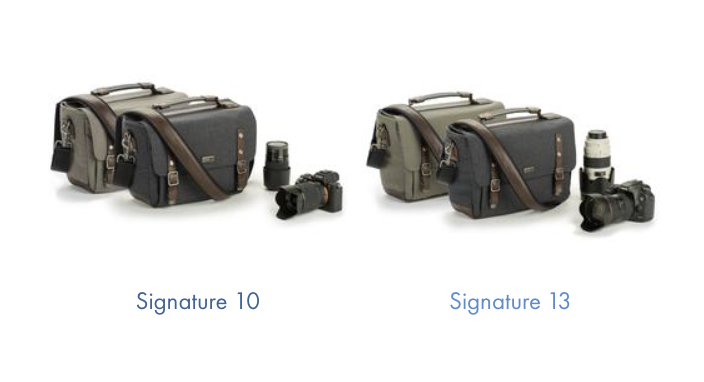 Signature 10 Dimensions
Internal: 11.8" W x 7.8" H x 5.1" D (30 x 20 x 13 cm)
Exterior: 13" W x 9.1" H x 5.9" D (33 x 23 x 15 cm)
10″ Tablet Pocket: 11.4" W x 7.8" H x 0.8" D (29 x 20 x 2 cm)
Weight: 2.8 lbs. (1.3 kg)
Signature 13 Dimensions
Internal: 13.3" W x 9.1" H x 5.1" D (34 x 23 x 13 cm)
Exterior: 14.6" W x 10.4" H x 6.3" D (37 x 26.5 x 16 cm)
Laptop/Tablet Pocket: 13" W x 9.1" H x 1.2" D (33 x 23 x 3 cm)
Weight: 3.1 lbs. (1.4 kg)
For now the less fancy but very functional Retrospective 30 is working great, but these sure like nice. Try to resist Erik…
I won't be kicking the 7 to the curb anytime soon. It will come in handy when smaller is better or I don't need to be a crazed video guy as well.
Like I said from the start. Camera bags are a personal item and we all have different needs. No one size fits all here. Just make sure you don't go too big. or you'll need a trip to the chiropractor after a solid day of walking around capturing those memorable images.
Please tell me that I'm not the only one with issues when it comes to finding the right camera bags. Do you have a favorite? If so please leave a comment in the section below.
Happy shooting!